My first "big girl" job in the optometry world came when I was right out of high school, where I worked at a corporate "glasses in about an hour" chain. I continued working part-time as a frame stylist, then as an apprentice optician all through undergrad, and then at a private practice part-time through optometry school. My optical roots run deep.
One of the things I was taught, starting with simple tasks at the commercial optical and concluding with complete lens finishing at the private practice, was the art of in-office edging. Now, ten years into a cold start private practice of my own, and 18 years out of optometry school, the benefits of in-office finishing are something I am newly exploring once again.
Staying Competitive
As owners of independent practices, we face pressures from insurance, competition (both online and brick and mortar), the pressures of inflation, and the current state of the economy. In our practice, in-office finishing has allowed us to combat those pressures by improving our ability to serve our patients, as well as the ability to affect our cost of goods, and ultimately, our bottom line.
In today's world, our patients want increasing convenience without sacrificing quality or speed of service. That certainly is a tall order, but one that we need to strive to meet to compete and set our practices apart from all the noise in the landscape. As we have transitioned from lab edging to in-office finishing, we have seen faster turnaround times, which allows us to have materials ready for patients faster than they can get them online, and in most cases as fast, if not faster, than they can get similar lens designs from corporate retail locations. We also can offer the convenience of edging lenses to fit a patient's own frame, which in turn increases our multiple lens sales.
When comparing the cost of goods of stock lenses edged in-house to surfaced lenses edged at the lab, there are huge cost savings to using stock lenses. A pair of lenses that would wholesale from an optical lab with polycarbonate material, photochromic lenses, and premium anti-glare could save you $70-80 per pair using stock lenses instead of having lenses surfaced! Plus, with stock lenses, you have the option of having common prescriptions in your most sold materials in your office. This allows you to make emergency replacements, or just offer some patients same-day or next-day service. Trust me — this will WOW your patients.
Getting Started with In-Office Finishing
Starting to finish in-office might sound daunting, but it really is fairly straightforward. First, you'll want to decide on a finishing equipment vendor. Most vendors have the option of new or refurbished equipment. Personally, we chose to start with refurbished equipment to save on start-up costs and to get our feet wet. I reached out to a trusted vendor and, since I would be training a current team member to use it, I told the sales rep that I wanted a system so easy that I could teach a monkey to use it.
To get started, you'll need an edger with a frame tracer, lens blocker, and lensometer, as well as accessories such as blocks, adhesive pads, etc., and a dedicated place to use as your edging lab. This space doesn't have to be very big, but you should work with your lab equipment vendor to make sure you have enough space. You'll also want to make sure you have any necessary electricity or water lines. We were in the process of expanding to a new space when we bought ours, so I worked with my sales rep on how the space could work best. (Reps are awesome — use them!)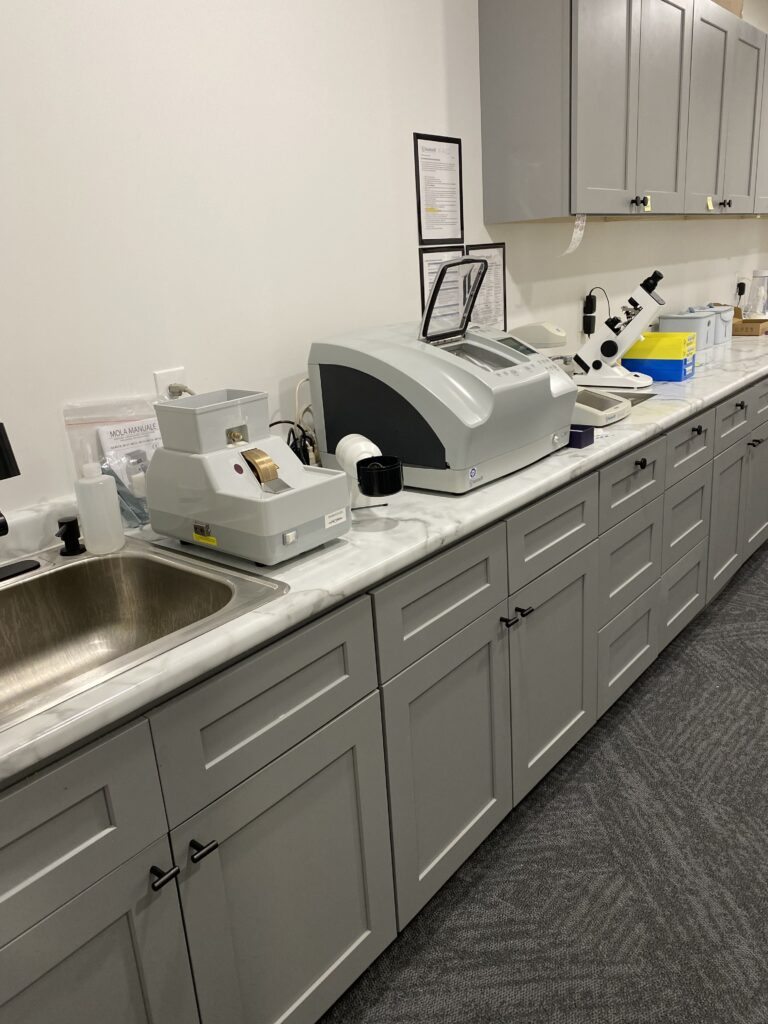 Once we had the space ready, our sales rep came in, set everything up, and trained my team members on how to use the equipment. Thankfully, I have a long memory, and the edging process came right back to me after more than a decade.
The last pieces of the in-office finishing puzzle were deciding what stock lens vendor to use, as well as setting up your in-office finishing lab in a way that your vision plan will accept. If you are lucky enough to practice in a state that gives you freedom of choice with labs, there won't be much to set up. Unfortunately, that is not the case for my office, so there are some restrictions on where I can order stock lenses to use for vision plan in-office finishing. Even with those restrictions, the cost savings are worth it.
Putting In-Office Finishing into Practice
If you are ready to jump in and consider in-office finishing, here is a short checklist of things to do and consider:
Think about the space you have available in your office now. Could you add a finishing lab to your current office space, empty exam room, or break room?
What types of lens jobs do you want to be able to do? What materials do you need to be able to edge? Do you want to do drilled rimless mounts?
What is the vision plan lab choice like in your state? Can you use in-office finishing for more than just single vision?
Contact a few optical lab equipment manufacturers to see what they offer and get advice on space size and other considerations.
Consider who will do the edging in your office. Will you need to hire someone, or is there someone already in your office you can train?
Once you've taken the time to think about these questions you can decide if in-office finishing is the right step for you. It truly has been a great experience for our office and our patients.