In 2020, the CDC reported that over half of children between the ages of 6-17 years old played a sport, while 25%, or one in four adults also played a sport. Three out of four American households have at least one school-aged child participating in youth sports, translating to $30 to $40 billion spent annually on children's sports activities.
That's a lot of children and adults who could use your expertise as a sports vision specialist.
One of the best parts of optometry is the ability we have to connect our profession with our unique interests. Are you someone who loves playing, coaching or watching sports? Are you looking to provide a higher level of care to your patients, outside of traditional primary care optometry? How can we utilize our training to help athletes see faster, react faster, and play faster? Sports vision not only provides athletes with specialized training, but it also helps us as practitioners feel energized, excited, and satisfied in the work we do.
Why Sports Vision?
Every practitioner has a different story as to how they end up specializing in sports vision. When asked why I started a sports vision practice, I often share that I grew up playing multiple sports, and when I realized this was not going to be my career, I wanted to find ways to incorporate sports into my daily life and career. Athletics and athletic performance continue to be extremely important to me, and working with athletes of different levels and sports to improve their performance is extremely rewarding and motivating.
The International Sports Vision Association will be holding its Annual Conference in Frisco, Texas, February 9-11, 2023. For more information, click here.
For my colleagues in sports vision, their stories of how they started in this field are equally as unique and personal. I spoke with several practitioners to learn more about how they broke into sports vision, how the specialty has benefited their practices, how they've managed to create connections with patients, and how they stand out as independent practitioners.
Adam Clarin, OD, is the owner of Clarin Eye Center in Coral Gables, Florida, and he is a member of the Board of Directors for the International Sports Vision Association. Growing up with three brothers, he had no choice but to play sports. As he competed, he realized he thrived in competition, which led him to major in psychology in college and pursue learning how the brain processes information and how we can use that to improve sports performance. While he was accepted into a Master's program in sports psychology, he decided to pivot and instead pursue optometry. This unique perspective led him to found Miami Sports Vision in 2017, where he has worked with the Florida International University Baseball Team, in addition to other amateur and professional athletes.
As someone who loves and understands the competitive nature of sports, and wanted to be involved in improving sports performance, Alireza Somji, OD, found his niche in providing sports and performance vision training. He is the Founder of NeuroVision Performance in Sugar Land, Texas, the Visual Performance Consultant to the Houston Dynamo FC MLS Soccer Team, and he was on the medical team for the Sugar Land Skeeters (now Sugar Land Space Cowboys) Minor League Baseball Team.
For Jeff Klosterman, OD, starting MEYEND Performance, in Lexington, Kentucky, was a way for him to have all of his worlds collide. As someone whose foundations in life and work were heavily guided by sports, performance vision was a natural fit. Being able to combine athletics and optometry made for an exciting opportunity for Dr. Klosterman, who added a sports vision specialty to an already successful career in private practice. He based his decision to dive into sports and performance vision on his desire to find subspecialties within his practice and to reinvigorate his passion for patient-athletes in the pursuit of their own personal goals in sports performance.
How Can Sports Vision Set You Apart?
Many of us are looking for ways to differentiate our practices and provide a unique level of care. Sports and performance vision set you apart as an expert in your field and can lead to unique opportunities in eye care.
Providing a different approach to patient care helps Dr. Somji show patients in his main practice how they are different than competitors. For Dr. Clarin, this specialty has helped him "become the expert and the go-to person in the sports world for coaches who have questions about vision or performance." He adds, "This may be as simple as a refraction or contact lenses," driving home the message that practitioners can start working with athletes in their private practices without a large outlay in cost, time, or resources.
We all have an opportunity to see each patient in our chairs as an athlete and prescribe accordingly. For Dr. Klosterman, the differentiation was not only for his practice, but for himself professionally. He found that it "set the wheels in motion for what has become an entirely new career path in the biomedical technology and performance industry."
How Can Practitioners Market Their Sports Vision Services?
Getting the word out about a specialty can be a time-intensive process. While many feel "if we build it, they will come," it often takes time, energy, and focus to be successful.
Dr. Klosterman said that word-of-mouth referrals have been his biggest sports vision specialty builder. This includes referrals from coaches, athletic trainers, and athletic directors, as well as from social media.
What Equipment Do You Need to Start A Sports Vision Specialty?

One of the biggest questions I get from those interested in sports vision is "what equipment is needed to begin?" I tend to break this down into "Low Tech" and "High Tech" equipment (see below) and encourage practitioners to mix and match based on their budget and available space. A lot can be done with a small budget and a lot of creativity!
Low Tech
---
Brock String
Hart Char
Marsden Balls
Prisms
Loose Lenses
Vision Ring/HECO Stix
Balance Board
BOSU Ball
Tennis Balls
Playing Cards
High Tech
---
Senaptec Sensory Station
Senaptec Strobes
Neurotracker
FitLightt
RightEye
Reflexion
Cognivue
Dr. Clarin found that having a busy primary care practice and building connections with patients really set him apart as the leader in the field. "It only takes one or two people to buy in for your sports vision specialty to take hold," he said. He also stressed quality over quantity: "It's not about finding every partner, but more about finding the right partners."
Dr. Somji found success in building up his sports vision services through internal marketing to current patients, as well as by giving presentations to groups of athletic trainers.
How Do You Get Started in Sports Vision?
For those looking to dive into the field of sports and performance vision, these practitioners have some practical, tangible advice that any independent practice owner can adopt.
Dr. Somji found success in networking and connecting with like-minded colleagues. He suggests joining the International Sports Vision Association, attending the organization's annual conference, and "being a sponge and following your passion."
Dr. Clarin said that it is important to go into sports vision for the right reasons. Having a true love of sports is important, as is a desire to work with high level athletes. Grit and determination are key, as it "may start out closer to something like a hobby, but if you stick with it, the following will come."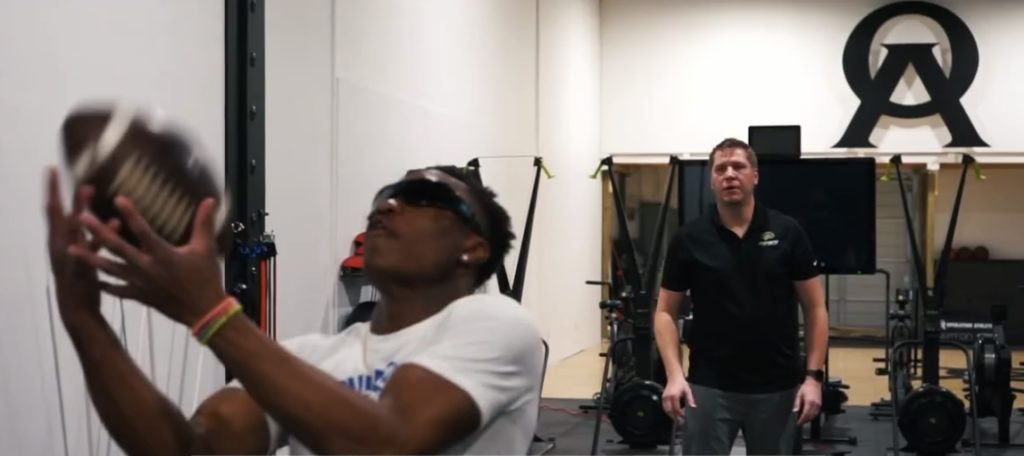 Dr. Klosterman likens starting a sports vision practice to playing a sport — "trust your instincts and fully commit to playing." He added, "No one achieves championships and success with cautious hesitation." His best advice: be confident in your skillset as an optometrist, and don't sell yourself short.
Working with athletes in a sports vision setting is an incredibly rewarding, exciting, and innovative way to provide patient care in optometry. While building a specialty practice takes dedication and hard work, the rewards that come with providing this type of care are worth it.