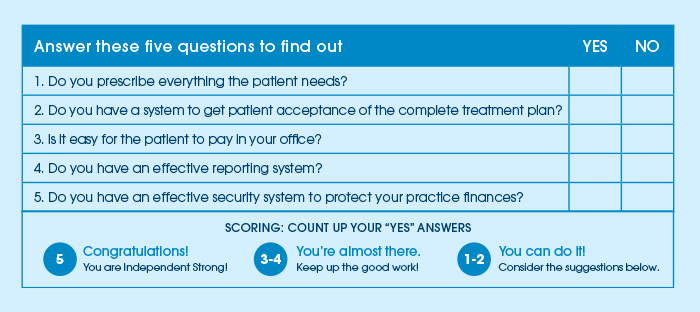 One way to think of the practice revenue collected is that it is a measurement of the level of care being delivered to patients. For example, in a situation where two practices are side by side delivering the same care to the same patient populations with the same fee schedule, a practice that has a higher revenue is delivering more care than a practice with lower revenue. So, monitoring your practice's finances is one way to determine how well your practice is doing, not just financially but also in regards to the level of care being provided.
Do you prescribe everything the patient needs?
A Time magazine survey found the average American man owns 12 pair of shoes, and the average American woman owns 27 pairs of shoes. Using just one pair of shoes for dress, sports, and the beach would be awkward at best and, more realistically, foolish.
In the U.S., about 60 percent of the population wears glasses or contact lenses, yet the majority do not have lenses that manage all of their visual pain points. Lenses can be prescribed to compensate for refractive conditions (myopia, hyperopia, astigmatism, and presbyopia), protection, comfort, work situations, light management, convenience, as well as fashion.
Even though most patients should have multiple pairs of lenses, most do not. The reasons given for not having multiple pairs of lenses addressing their pain points are that patients don't think they would be helped by them or don't believe that they can afford them.
When the patient is not prescribed solutions to meet all of their needs, the patient will not have an improved quality of life. From a practice finance perspective, prescribing everything the patient needs not only helps patients but also helps the practice's finances.
Here's how to help patients get the complete care that would improve their lives:
Complete a Lifestyle Questionnaire Before the Examination
People purchase products that make their life better, but many patients come into your office not knowing all the products and services you offer that can improve their lives. Using a lifestyle questionnaire can address this issue by identifying all the issues patients have by discovering their pain points.
It's important that the lifestyle questionnaire asks lifestyle questions not product questions. A product question is: "Do you have a pair of sunglasses?" Lifestyle questions are: "Do you like to spend time outdoors?" and "Do you find yourself squinting in bright light?" The lifestyle questionnaire can be presented online, before the exam, or in the office, either digitally or on paper, by a technician, or by the doctor.
Be Sure the Doctor Prescribes in the Exam Room
The most important action that impacts the patient getting what they need is for the doctor to prescribe in the exam room. The key word here is "prescribe" (not "suggest," not "recommend," and not "offer"). One example of a complete treatment plan might be: dress eyewear, sunwear, computer eyewear, contact lenses, and ocular surface disease treatment.
We know that when the doctor prescribes complete care in the exam room three things happen in the optical dispensary: patients are more likely to purchase all the care needed, the time patients spend in the optical dispensary decreases, and revenue per patient increases. When this happens, patients get what they need, and optical dispensary sales increase.
The most effective way for the doctor to prescribe in the exam room is to use the lifestyle questionnaire to identify each patient's pain points and then use that information to prescribe the necessary solutions to address each problem.
Here's a sample script for the doctor to follow: "I see from your answers on the lifestyle questionnaire that you get headaches when you spend time up close on your smartphone. My testing shows that you have problems in your visual system that are causing that. One of these problems is called presbyopia. It is a normal process of aging. It won't go away and will get worse as you age. To address this problem, I'm prescribing this solution for you …"
Do you have a system to get patient acceptance of the complete treatment plan?
Your practice must overcome two major issues that can prevent the patient from receiving a complete treatment plan: objections and lack of closing techniques.
Overcoming Objections
Understanding objections is key to comprehending the psychology of your patient. When you handle objections correctly you move the patient toward mutually beneficial goals.
This does not mean that you are moving your patient from a "No" to a "Yes." Rather, by handling objections, you are identifying patient concerns and moving them to a solution that is agreeable to both of you. In essence, what you are really doing is helping patients see the value in your offer. It's helpful to keep all of this in the context of what Steve Jobs once said, "People do not know what they want until you show it to them." Show them what you have to offer to overcome their objections.
Here are four categories of buyer objections: affordability, bad past experiences, lack of trust, and risk fear. Refer to the box below to overcome these objections.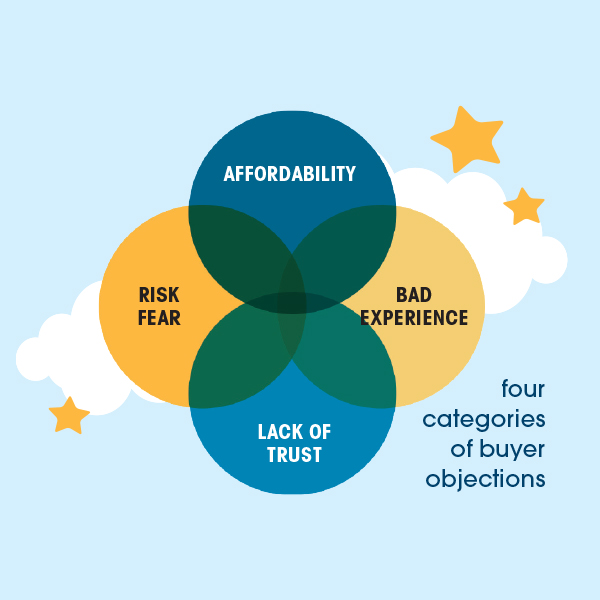 PROBLEM
                SOLUTION
AFFORDABILITY  
Many times when patients say, "I can't afford that," the doctor or team member accepts that answer without challenge and then attempts to offer the patient a less expensive choice.  In doing this, the patient sacrifices benefits that could be realized.   
A great response to "I can't afford that." is: "Well, how long will it take you to afford that?" Then, based on their answer, you can divide up the treatment plan over that time frame, making sure the patient gets everything they need even if it takes three months (or six months or two years).   The solution is to make it easy for the patient to pay. To do this means going beyond just cash and checks. Patients should have access to major credit cards as well as new forms of payment such as Square (Cash App), Google Pay, Apple Pay, Venmo, and PayPal as well as financing options such as CareCredit.  
BAD PAST EXPERIENCE  
The patient says, "I had that anti-reflective lens treatment 10 years ago, and it cracked and peeled. I don't want it on my glasses now or ever."  
Talk about the changes in technology that have happened over the last 10 years. Cellphones, for example, now have more computing power than the computer on the first lunar lander. Lens technology has also improved dramatically over the last 10 years.  Make sure to offer a guarantee on the lenses.    Quality AR has a 90+% repurchase rate, so getting patients into the product now locks in future sales.  
LACK OF TRUST  
When the patient does not trust the doctor, the patient does not trust the treatment plan.  The patient feels that the doctor is just trying to "sell" the patient versus really trying to help the patient live a higher quality of life by reducing or eliminating pain points.  
In this case, the patient does not see the solution as helping with the problem. The best approach is to show the patient. Using lenses to show the patient over their current prescription how the new progressive addition lenses will let them see both distance and near simultaneously should handle the problem. It's worth having demonstration lenses made up for these purposes.  
RISK FEAR  
Some patients who have never worn contact lenses fear the risk that something could go wrong, and that keeps them from moving forward with the doctor's treatment plan.  
After you place contact lenses in the patient's eyes, send them into the optical dispensary to pick out new glasses. They will actually be able to see themselves in the mirror as they choose their frames.
Here's a pro level tip: Keep track of your patient objections. Especially keep track of how many times each objection occurs. This provides insight into the areas where your treatment presentation needs to improve. Create improved scripts that handle these issues before they are even brought up in future treatment plan presentations.
Closing Techniques
Sendoso is a company that is dedicated to helping businesses engage, acquire, and retain customers. According to Sendoso, with proper closing techniques, you will see a five-time increase in your capture rate.[i] 
Getting patients to accept the doctor's treatment plan all starts with building rapport. Most people mistakenly think that talking about the game last night is how you build rapport. That's not the best way. The best way to build rapport with the patient is to help them know that you understand their visual problems and how they negatively impact their life. The key to this is a technique called "active listening," listening attentively and reflecting what is said without judgment or advice. Every doctor and every team member must master this skill. All of this must be based on a foundation of real interest in the patient, professionalism, honesty, and courtesy.
Then, you must ask for the sale. Just recommending a product or a service does not get you over the finish line. If you are looking for a method that fits your practice best, here are the 20 best sales closing techniques of all time.[ii]  We recommend starting with the Assumptive close, which begins by assuming the patient will buy. It is very effective and easy to use.
Is it easy for the patient to pay in your office?
"Payment due at time of service" is a common sign that is placed somewhere around the reception desk. This is not the most welcoming sign. We understand why people feel the need to post it, but if this is one of the first things a patient sees when they enter your office, you are putting up the first hurdle to a successful patient interaction
The rule is to make it easy for patients to pay. When you offer a financing plan such as CareCredit at reception, more people will use it. Also, those who use a financing plan generate higher revenue per patient than those who do not.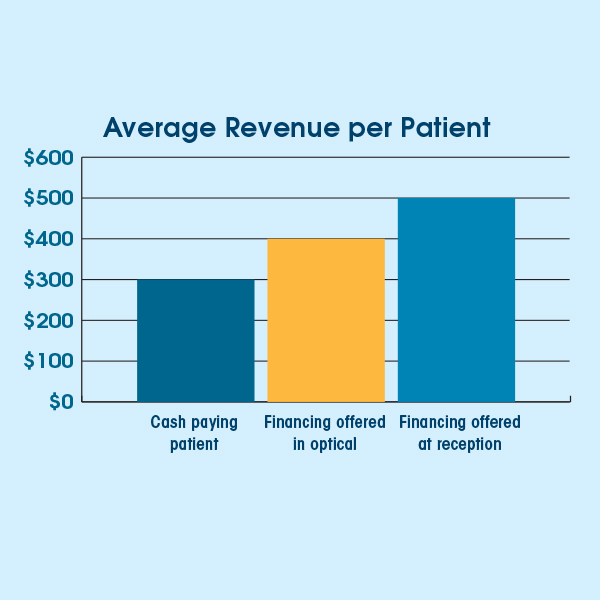 Drs. Hoffman reported in an article[iii] that the introduction in their office of ABB Verify https://www.abboptical.com/abb-verify powered by AffinityAnalytics, "… gives you a way to send care reminders that include information about insurance benefits that may allow patients to fully follow the treatment plan you have prescribed. ABB Verify sends e-mail and text messages regarding services due and informs them of their benefits, including alerting patients to the amount of money available to cover an exam, or perhaps a purchase or prescribed eyewear and/or contact lenses." Tools such as this make it easier for the patient to pay.
Do you have an effective reporting system?
In order to successfully manage your practice, you must first measure. Without measuring, the best you can say is that you are managing your practice by how you feel. To manage your practice in an effective, scientific manner starts with measurement. But what should you measure? Here are our recommendations.[iv]
| | | | | |
| --- | --- | --- | --- | --- |
|   | Daily | Monthly | Six Months | Annual |
| Net income percentage of gross revenue collected |   | | | |
| Gross revenue collected Gross revenue from self-payGross revenue from Medical PlansGross revenue from Vision Plans | | | | |
| Gross revenue per exam Gross revenue per total examsGross revenue per comprehensive exam with refraction with expectation of Rx purchase | | | | |
| Gross revenue per staff hour worked   | | | | |
| Optical dispensary capture rate | | | | |
| Number of frame lines displayed on the frame board Men'sWomen'sUnisex |   |   | | |
| Frame line turn rate (for each frame line) |   |   | | |
| Total patients seen % New patients% Fill rate |   | | | |
| Contact Lens Sales % Annual Contact Lens sales % Contact Lens sales by lens category |   | | | |
| Expenses as a percentage of gross revenue collected COGSDoctor payroll (Owner OD and Associate ODs)Non-doctor staff payrollOccupancyEquipmentMarketingOverhead |   | | | |
The numbers to measure can be found most often within your practice management software, your reports from your optical laboratories, and your practice's federal tax returns (including the P&L statements and balance sheet documents used to create the tax returns).
There are easy ways (and there are hard ways) to data mine your practice's financial numbers. Here are the easy ways:
The easiest way is to purchase a business dashboard from companies such as EdgePro or ABB powered by Glimpse. These programs give you the best insight into your numbers, including information such as your opportunities for growth, the personal productivity of each staff member, how many times a patient had frame coverage from a vision plan but ordered lenses only, and much more.
Your practice management software contains rudimentary reports that can be helpful. You can enhance these reports by hiring either the practice management software company or a programmer to create the specialized reports you need to run the practice effectively.
The hardest and most expensive reporting system is to hire someone to track your practice numbers manually. We do not recommend this approach.
Do you have an effective security system to protect your practice finances?
In most practices, theft occurs from the inside. It generally starts "innocently" with an "unauthorized loan." A staff member may help themselves to some money (usually cash), intending to pay it back. They do this without authorization from the owners. Days pass, and because it was so easy, when the opportunity presents itself again, it happens again. Then again. And when no one catches on, it happens again. There are also issues of stealing inventory and giving family and friends "free" materials.
Stealing can also come from outside the practice. We've seen security video of a grandmother moving through an optical dispensary pocketing frames as she walked.
Whether stealing comes from inside or outside the practice, the core problem is there was no system in place to keep people from stealing. When you are not looking, people know you are not looking. You are allowing temptation to occur. Temptations often lead to actions, and those actions won't lead to any place that is good.
Here are your key money vulnerabilities: Embezzlement (making "copies" of practice checks, writing themselves checks, stealing bank deposits); Digital (hacking, viruses and worms, ransom software, identity theft); Taking cash money from patients. There are also physical vulnerabilities: No security system (this is a HIPAA requirement) and ineffective materials (including frame board security systems). Here are four steps to create and implement a written theft prevention plan:
Contact the bank the practice does business with and request a review of all of your theft-prevention systems.
Read this article by Pam Miller who is both an optometrist and an attorney: Theft Prevention 101: Set Up Safety Protocols and Security Enhancements – Review of Optometric Business (reviewob.com)
Perform unannounced audits. When people know that you are going to audit and especially when the audits are random, they know you are looking. This is a huge discouragement for stealing. People tend to steal when they think you are not looking.
Review the hidden audit trail in your practice management software. By the way, this only works if you enforce staff to use unique usernames and passwords every time they login, plus you do not allow staff to use each other's logins. (If you need more motivation, this is a HIPAA requirement.)
For more information on how to stay Independent Strong download the Special Report here.
---
[i] 1-to-1 Corporate Gifting Platform for Sales Teams | Sendoso
[ii] 20 Best Sales Closing Techniques of all time. (Updated 2021) | SalesHandy
[iii] The Technology Contributing to Higher Patient Satisfaction & Higher Practice Revenue – Review of Optometric Business (reviewob.com)
[iv] Managing By the Numbers: Key Actions to Take – Review of Optometric Business (reviewob.com)