As eye care and optical professionals, we can often be bogged down with the responsibilities and day-to-day operations of our practices. We have patients to see, staff to manage, billing to do, and business operations to tend to. We are focused on running efficient, effective practices, attracting, and retaining patients, and being profitable.
I'd encourage you to come up for air at times and take a look at the greater community of which we are a part. There are often events and celebrations happening in the eye care community that our practice could celebrate, with minimal time and effort. Being part of these events can be great for team building with our staff, rejuvenate us, support important organizations, and show our patients we care. In a time when practices are trying to attract patients and stand out, opportunities like this can really differentiate us from our competition.
World Sight Day is an annual day of awareness to draw global attention to vision impairment and to raise funds to combat them. It is supported by eye health organizations from around the world to support the more than one billion people worldwide who cannot see because they do not have access to eye care.
While World Sight Day this year falls on Thursday, October 13, it is celebrated throughout September and October to bring the optometric community together. With this year's theme of Love Your Eyes, there are many creative ways a practice can celebrate and bring awareness to the problem of preventable blindness.
What are some ways you can celebrate this day in your practice?
Social Media
By simply sharing the importance of World Sight Day on your social media pages, you can begin to bring awareness to the campaign. Showing patients you care about global issues can set you apart from other offices, especially if you have unique ways to celebrate. Adding a tweet or Facebook post with the hashtag #HappyWorldSightDay helps your practice join the global conversation. You can encourage patients to snap a selfie wearing glasses or post a picture of their "favorite sight" and tag your practice and #WorldSightDay and #LoveYourEyes to win a raffle or gift certificate.
Fundraising
Offices can match donations made by their patients and community and keep a running tally of the money they have collected. This can motivate patients to be part of a cause, and also show that your practice cares by matching what is collected. Be sure to use social media, email blasts, and office signage to talk about your goals!
Dining in the Dark
While dining in the dark events are often done to enhance the experience of eating, they can also raise awareness of the experience of living with a visual impairment or blindness. In these events, diners wear masks and share a meal and experience the daily activities and tasks that they take for granted with vision.
Like and Share
Another social media strategy is to ask Facebook friends/followers to like and share posts about World Sight Day, and make a donation for each share.
Staff Involvement
Staff engagement is key when planning events and fundraisers. Making it fun not only increases participation but also makes it a real team-building experience. Offices can make t-shirts for their staff to wear, which is a conversation starter for patients! Matching t-shirts also make for great photo opportunities to share on social media.
Office Events
Trunks shows are a great way to raise awareness and funds for events such as World Sight Day. Patients can be encouraged to make donations in exchange for the chance to win something, or for an extra discount.
Some Creative Ways Practices Are Celebrating World Sight Day
Dr. Doris Wong shared that her practice, San Ramon Family Optometry, supports the World Sight Day Challenge every year. "It is a cause that hits home for my staff, since this is what we do day in and day out. There is nothing more precious than the gift of sight, and we play a big role in improving a patient's quality of life through their vision!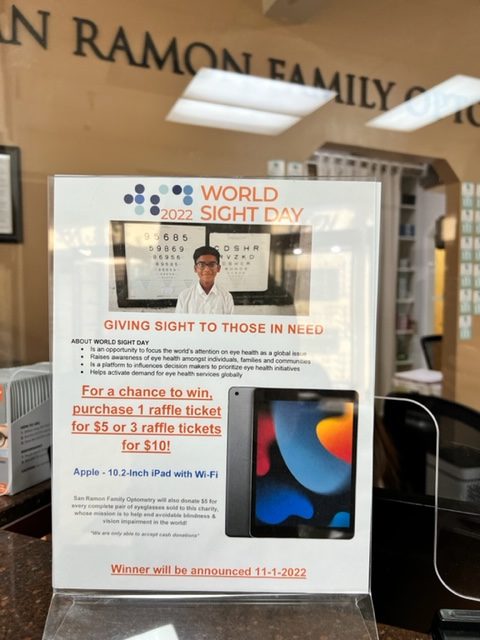 "Our strategy for the Challenge is having a great raffle prize. We purchase an iPad or something similar, and patients who donate to the Challenge participate in the drawing for the prize. The more they donate, the more chances they have of winning. All proceeds are donated directly to the World Sight Day Challenge. Also, our office makes a donation for each pair of glasses sold that day. This has helped us beat our contribution amount year after year."
Dr. Stephen Rice, the CEO of Vision Clinic, a five-location private practice in southwest Missouri, has participated in World Sight Day since 2007. While originally starting small, they have grown their outreach through staff and community commitment. Their 11th Annual Vision Clinic 5k/1 Mile Fun Run raised more than $12,000 to bring eye care to those in need. Throughout the month, they also raise funds for the race by having a 50-50 raffle, His/Hers/Family Basket Raffles (values of $1,000+), and a Jeans Day Friday, where staff contribute $5 each day they choose to wear jeans.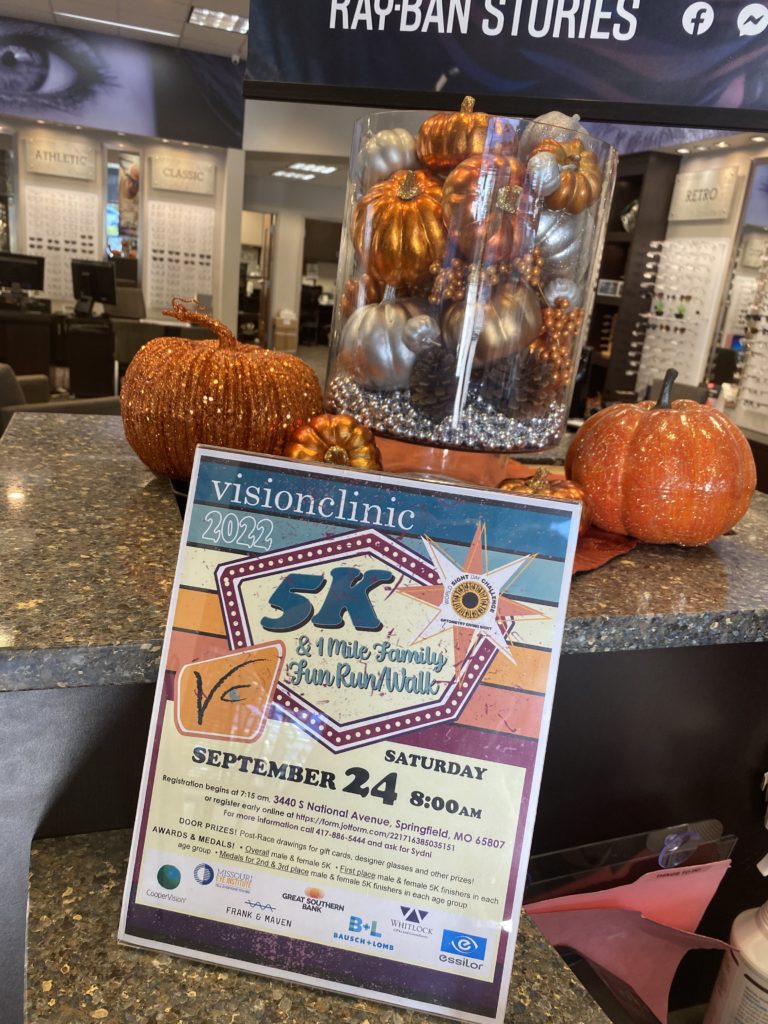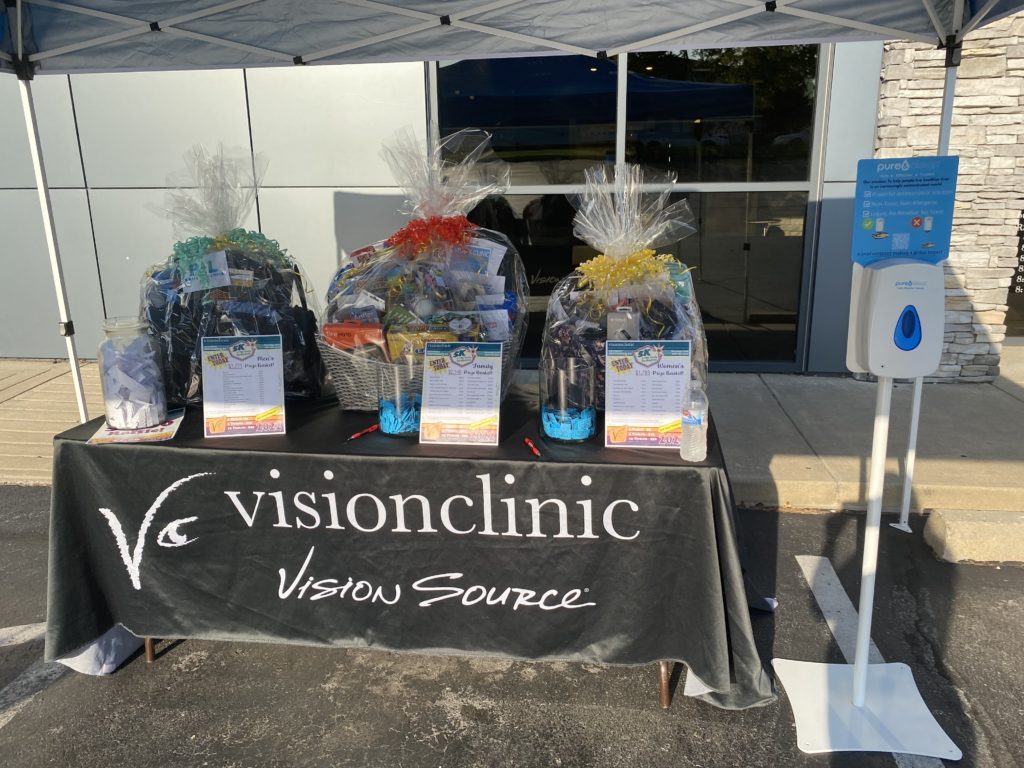 Dr. Rice says, "We feel good about the difference we are making in the fight to end avoidable blindness and vision impairment by participating in the annual World Sight Day Challenge. To say that I am proud of what my amazing staff and doctors do to make a difference on this front is an extreme understatement!"
Celebrating World Sight Day in our practices is a wonderful way to show our staff and patients that not only are our small businesses focused on supporting our local communities, but we are also looking at global missions. Consumers tend to like to patronize and visit businesses that they feel are "doing good things," and by adding unique ways our practices can participate, we can raise awareness and help grow our businesses.