"I'd love to bring in that new dry eye equipment, but I just don't have the room for it." I have heard this sentiment countless times from my colleagues. Surprisingly, this dilemma arises even among those with spacious offices.
When I opened my cold start practice, South Waterfront Eye Care in Portland, OR, I deliberately sought out a space that was not overly large to keep my overhead costs in check. However, the practice has been consistently growing over the last ten years, largely attributable to our early adoption of specialty dry eye services. A few years into launching our practice, I started to invest in advanced dry eye treatments. Consequently, I had to get creative in optimizing our 1,200-square-foot workspace. While it was feasible to conduct thermal gland evacuation treatment in the exam room, performing intense pulsed light (IPL) was more challenging, and it became evident that I needed more space to store and use the unit.
Looking at Your Space Differently
Since I own the clinic space, relocating to another location or expanding the current one was not a viable option. Therefore, I had to think of ways to adapt our existing space to accommodate the new dry eye equipment. The first area I targeted for transformation was my office. It contained a large desk with a computer and a bookshelf filled with eye care books I rarely used or referenced. While having an office is convenient for interviews or meetings, it primarily serves functions that could easily be conducted in any other room.
So, I decided to completely clear out my office and repurpose it into a treatment room. Now we perform all of our dry eye treatments, such as Lipiflow, Miboflo, radiofrequency, and IPL in this treatment room. To optimize the space further, we eliminated the bulkiness of the treatment devices by removing them from their original base stands. Instead, we built a new countertop to provide more efficient and space-saving arrangement for the equipment.
In addition, we have incorporated advanced aesthetic treatments into our services, including microneedling with RF and Hydrafacial procedures. This dedicated space elevates the overall patient experience, providing a spa-like atmosphere whether they are getting dry eye treatments or aesthetic procedures. Moreover, a dedicated treatment room has allowed me to allocate my chair time more efficiently to accommodate seeing new patients while the dry eye treatments are delegated to our advanced aestheticians. Our aestheticians have built a strong rapport with our dry eye patients through regular interactions, and they offer individualized guidance on skincare and beauty products that are ocular surface friendly. As a result, they maintain separate, busy schedules dedicated to both dry eye and aesthetic treatments. The introduction of aesthetic services and skincare products has significantly contributed to the practice's revenue stream.
Getting Creative to Grow Your Practice
During the pandemic, my patients with severe dry eye lost their access to autologous serum eye drops (ASEDs) at our local hospital. To address this issue, I began offering in-office services for blood draws and the preparation of both ASEDs and autologous platelet-rich plasma (PRP) eye drops for our advanced dry eye patients. This expansion in our services required dedicated space for essential equipment, including a hematology analyzer, centrifuge, and a laminar flow hood, which is crucial for preparing drops under sterile conditions.
Without an extra room to transform into a lab, I decided to repurpose our contact lens storage closet into a phlebotomy lab. This move not only freed up space but also enhanced the efficiency of our contact lens fittings by consolidating the contact lens trials.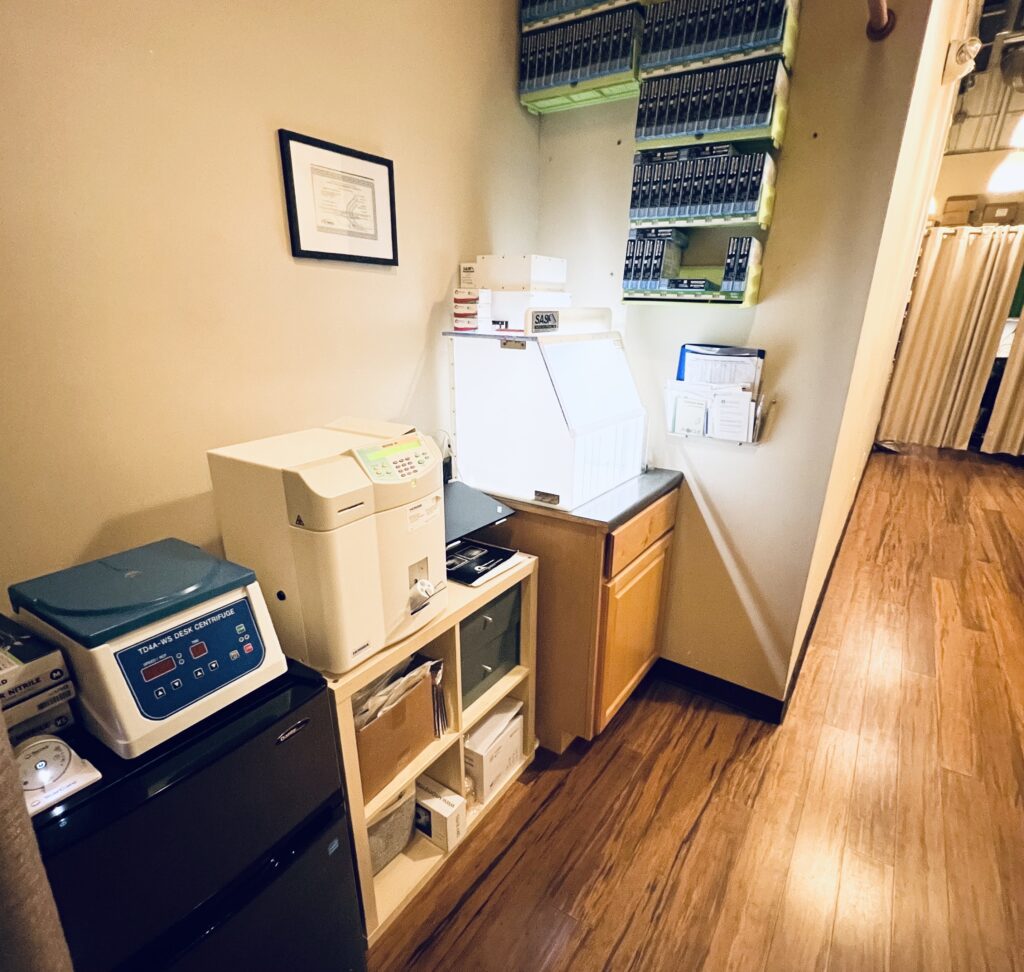 Make the Most of Your Space
With a touch of creativity and perhaps a dash of discomfort by letting go of an office that contributed nothing to our revenue, we have created a very successful dry eye clinic with a large referral base. We closely work with the local optometrists and ophthalmologists to co-manage and provide advanced dry eye treatments to their patients. Moreover, we are privileged to serve patients who travel from various other states to seek our specialized care.
Providing medical and specialty services has enabled us to prioritize the patient experience without increasing the volume of patients under vision care services. And ultimately, what benefits the practice invariably benefits our team members. Consequently, we've been able to extend benefits, offer bonuses, have one-hour lunch breaks with office closure every day, and eliminate the need for Saturday patient appointments.
Our approach in growing the practice involved diversifying our services, incorporating advanced dry eye treatments, aesthetic services, and nutritional counseling. These measures have played a pivotal role in the year-on-year growth we've experienced since we opened our doors in 2013. Most importantly, they've allowed us to stay true to our mission: delivering the best patient experience and providing access to the latest tools and technologies in eye care.