Independent Strong interviewed leaders in the ocular aesthetic community — Janelle Davison, OD (Brilliant Eyes Vision Center, Smyrna, Georgia), Selina McGee, OD, FAAO (BeSpoke Vision, Edmond, Oklahoma), Jessilin Quint, OD, FAAO (Smart Eye Care, Augusta, Maine), and Carly Rose, OD, FAAO (Eyecare on the Square, Cincinnati, Ohio) — to learn how independent eye care practitioners can find success in aesthetics. The group discusses what aesthetics products and treatments they offer, the patient response to these services, the best parts of offering aesthetics, and more.
Independent Strong (IS): How do you describe ocular aesthetics/aesthetic optometry services? 
Janelle Davison: Optometrists are in the best position to provide advanced level services that promote both anti-aging and preventative eye care. I describe aesthetic optometry as non-surgical, minimally invasive procedures, or invasive cosmetic/aesthetic enhancements for the periorbital skin and tissue around the eyes, as well as specific anterior segment structures. This includes, but is not limited to the eyebrows, eyelashes, eyelids, irises, conjunctiva, and midface.
Selina McGee: Let's start with the easiest, frames and contact lenses. Ultimately, ocular aesthetics is about a patient feeling the best about themselves and how they look. Lots of patients choose a frame based on how it changes their look or wear contact lenses because they don't like the way they look in frames or want the convenience. Also, anything to rejuvenate the eye and the area around the eye is ocular aesthetics.
Jessilin Quint: Anterior ocular health (dry eye disease) has a natural overlap with ocular aesthetics, but ocular aesthetics also includes the appearance of the eyelids, eyelashes, and brightness of the eye. It also includes all products (skin care, makeup) and treatments that impact this.
Carly Rose: I stumbled into aesthetics. All through optometry school we are educated that the eyes are an extension of the brain. I realized that the eyelids and the ocular surface are an extension of the skin. Because I have a special passion for dry eye, I almost was obligated to learn about aesthetics and how they relate to the surface of the eye. They cannot be mutually exclusive.
IS: What aesthetic services do you offer your patients?
Dr. Davison: Most of my treatments are centered around treating and managing dry eye disease and meibomian gland dysfunction (MGD). I explain to my patients that my goal is to improve their symptoms, and some of the treatments offer aesthetic benefits. We offer Intense Pulse Light Therapy (IPL), Low Light Level Therapy (LLLT), eyelid micro-exfoliation, and thermal pulsation. We also offer the latest treatments to help improve ocular redness (Lumify), low lying eyelids (Upneeq), thinning lashes (all-natural lash serums), and age-related blurry near vision (Vuity). Patients appreciate that our office includes aesthetics. True comprehensive care includes vision, eye health, and aesthetics. Dr. McGee and I have coined the term "comprehensive eyecare 2.0."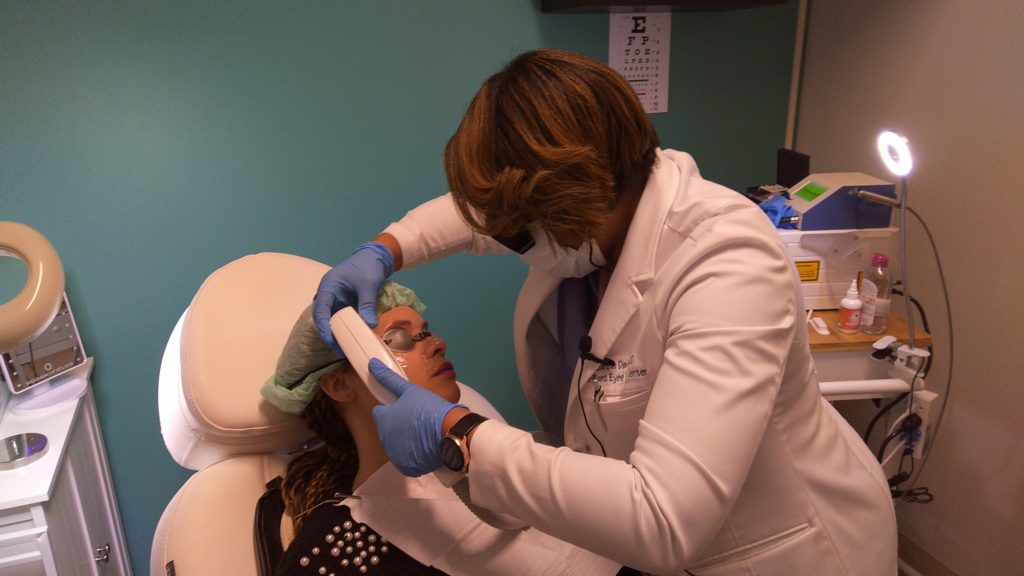 Dr. McGee: I offer laser resurfacing, radiofrequency, and intense pulse light, which is IPL neurotoxin. The skin around the eyelids is thinner than any place else on the body, and it's the first to show aging. That's also the first thing that people notice about our faces — our eyes.
Dr. Quint: In terms of services, we offer: Zest, Blephex, IPL, Lipiflow (dry eye), facials, dermaplaning, and hair removal (done by an in-house aesthetician).
Dr. Rose: We have IPL for a photofacial. We also have LLLT, and there's a lot of crossover between aesthetics and dry eye with that. We have radiofrequency, and then we also do a deep lash clean, an in-office lid margin debridement or a micro-exfoliation. That's good for ocular surface, but for our patients who get eyelash extensions, we recommend deep cleans between lash services.
IS: What aesthetics products do you recommend to your patients? 
Dr. Davison: I offer products that are safe to enhance beauty without causing harm to the ocular surface. We offer cosmetic products from Eyes Are The Story, Twenty Twenty Beauty, and skin care products from Oculaire. I am evaluating other skin care products to implement in 2023. I like to partner with products formulated and tested by eye care professionals. Twenty Twenty Beauty and Oculaire products were both founded by ophthalmologists.
Dr. McGee: I recommend facial cleansers, eyeshadows, eyeliners, eyebrow gels, mascaras, makeup removers, sunscreens. Eyelids are the most common place to get skin cancer. When was the last time you put sunscreen on your eyelids? If you're not wearing polarized sunglasses, your eyes are overexposed. We help patients who struggle at night, because not everyone sleeps with their eyes fully sealed. If patients have CPAP machines for sleep apnea, they can end up with air pumping on the front surface all night. In those instances, we'll recommend certain adhesives or sleep masks that can help make the nighttime more comfortable. It's about finding the right brands with the right ingredients. We carry and recommend: Eyes Are The Story, Epionce, Twenty Twenty Beauty, ICO, and more.
Dr. Quint: I recommend: Bruder Mask, We Love Eyes (Foaming Tea Tree Cleanser, Hypochlorous Spray, Tea Tree Water), Color Science (sunscreen lotions, eye creams, sunscreen brush, eye masks), Revision skin care line, Eye Seals, and prescriptions (after proper examination) for Latisse and Upneeq.
Dr. Rose: We have a host of dry eye products, eye drops, and nutraceuticals, but then we also have skin care lines and cosmetic lines. As much as you can imagine, we carry. We also have things such as eyelid rollers, eye masks, or sleep masks.
IS: How do you market aesthetics products and services to current and new patients?
Dr. Davison: Internally, we have signage (wall clings and tabletop displays) and patient education brochures, as well as email campaigns. Externally, we have a robust referral system; we receive referrals from neighboring optometrists, ophthalmologists, and other allied health professionals (dentists and chiropractors). Our best referral source is digital marketing via website SEO, website landing pages with dry eye symptom quizzes, social media content, podcast interviews, and digital billboards. We work hard to keep our practice top of mind for patients seeking eye care services.
Dr. McGee: We have a lot of information on our website for patients who haven't been into the practice. And we have a lifestyle questionnaire we give all patients when they are there for their comprehensive exam. There are multiple questions about their eye health and general aesthetics, such as: Do you want your eyes to be more open? That information allows us to have a conversation around products such as Upneeq, for example, which we can write a prescription for. Answers to the questionnaires also help us identify which patients would be good candidates for radiofrequency, IPL, and all those treatments. We're very intentional about asking every patient what they would want to change about their eye area or face.
Dr. Quint: For current patients, we send emails about different aesthetic products and services we offer. We also utilize social media, advertisements within our location community (chamber of commerce, newspaper, radio), and word-of-mouth networking.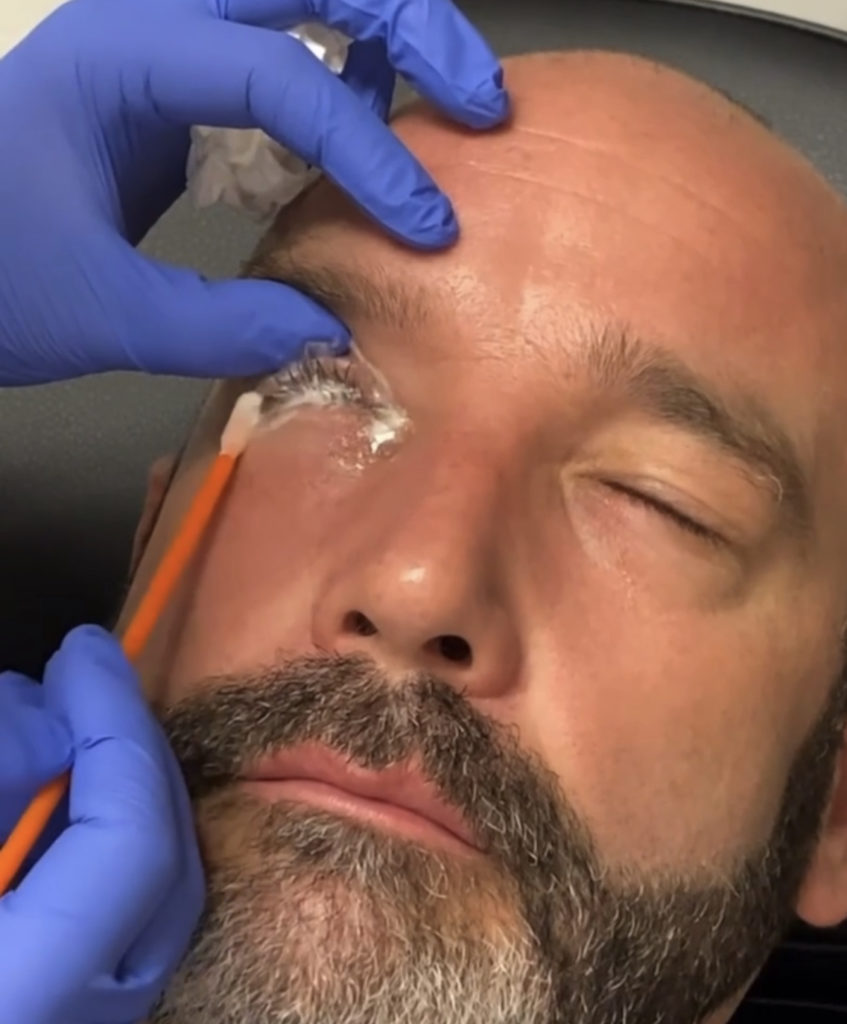 Dr. Rose: That's a question I get all the time, so I'm putting together a downloadable digital product for this. Our marketing strategy is a multifactor approach — social media and all things digital, which includes email blasts, blogs, Google SEO, and paid ads. We also do a lot of in-house events and in-person where we go to our local colleagues and say, 'Hey, we're here. This is how we can be mutually beneficial.' I lecture as much as I can to give back to the local community and slowly get known as the local expert in aesthetics.
IS: Who performs the treatments in your office?
Dr. Davison: Mainly by the provider, and the treatment technician assists. In every case, my technician preps both the room and the patient to increase efficiency.
Dr. McGee: My ocular hygienist assists with a lot of these procedures. He often does the pre- and post-work, and then I do the initial consultation and a lot of the procedures. There's so much overlap between dry eye disease and aesthetics, that's why he has that title. He's integral to making that pillar of my clinic work.
Dr. Rose: I currently have a nurse practitioner doing all injectables, micro-needling, chemical peels. We do Botox, filler, chemical peels, micro-needling, and blood work. An aesthetician does facials, optometrists do IPLs and LipiFlow, and medical assistants do radiofrequencies, LLLT, and iLux.
IS: Do you do any assessments/bundling of services?
Dr. Davison: We provide bundled options for all our services. Our Premier Treatment Plan includes three sessions of IPL, thermal pulsation, lid micro-exfoliation, and one home therapy treatment (either Oasis warm compress masks or a 30-day supply of Omega-3 supplements) — plus patient education material on safe cosmetics. Our anti-aging bundle add-on assessment includes a retinal wellness screening and candidacy screening for Upneeq and Vuity. If the patient is a candidate, they leave with a sample of both Vuity and Upneeq.
Dr. McGee: For patients looking to just improve aesthetics, I combine IPL with radiofrequency, along with laser resurfacing, because they're all doing different things. I package frequently for a dry eye patient. I always do IPL for MGD. We do radiofrequency to tighten the skin around the lids to help with blink reflex. At the end of that series, I do heat and expression with TearCare so that I evacuate all those glands and reset everything. It's not an à la carte system.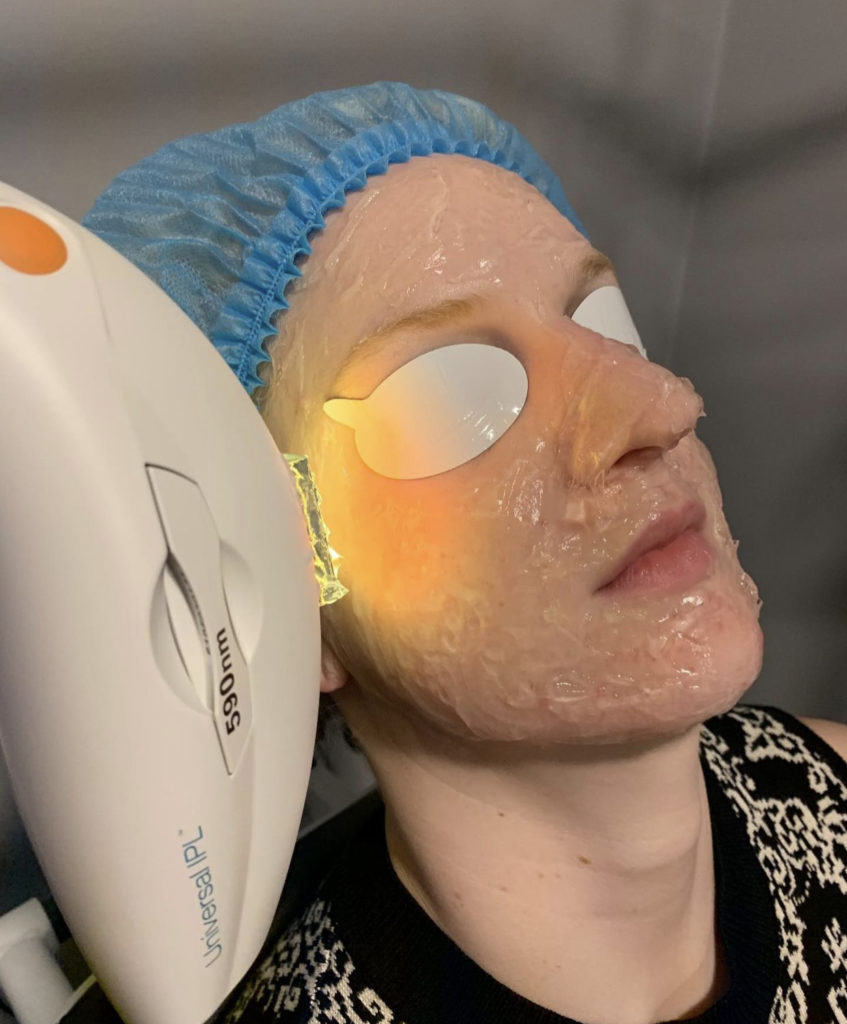 Dr. Quint: Most patients are initially scheduled for a dry eye consultation. This is billed as an office exam to their medical insurance (if applicable). We do offer bundles for treatments — a "Goodbye Dry Eye" package includes a ZEST, four IPLs, and Lipiflow, and a "Hello Maintenance" package includes ZEST, two IPLs, and Lipiflow to provide a cost savings aspect to the patients. All treatments can also be purchased à la carte.
Dr. Rose: Most of the time we'll do bundles. In the dry eye and aesthetic worlds, there's no one-time procedure to cure your dry eye or to look young forever. So, we almost always bundle services and also offer bundles for products. This year we're going to launch membership models where patients can get discounts or special promos or special events on treatments and products.
IS: How has patient reception of these services been?
Dr. Davison: The patients have been very receptive to the new services. We have been providing specialized services since 2018.
Dr. McGee: It's been awesome. I was a little intimidated when I started in this space six or seven years ago because it was different for me. Patients trust the relationship we've built, and they're excited I have these capabilities. They don't have to go somewhere else to get these services. They already have an established relationship.
Dr. Quint: With proper education, patients have been receptive. Education is key in helping patients understand the dry eye disease process, factors that can impact the disease, and the value of in-office treatments. Taking the time to help the patient understand the diagnosis and treatment options often translates to a higher capture rate.
Dr. Rose: Shockingly receptive. A lot more people get aesthetic services than anyone would ever believe, and that world is growing dramatically — especially the male population. I think we're going to see a huge boom in the male demographic getting these aesthetic services.
IS: Are these services typically covered by insurance? If not, how do you communicate that?
Dr. Davison: Typically, they are not. Transparency is important. I prescribe my treatment plan and explain to the patient these services are not billable to insurance. We offer CareCredit and Afterpay to help overcome financial barriers. Most patients understand they are responsible. If they cannot afford services, I try to prescribe an alternative treatment plan. However, I educate the patient that the alternative plan is a "bandage" and will not address the root issue. In my practice, we have not had a significant issue with cost as a driving force for treatment.
Dr. McGee: No, not typically. We have patients sign an advanced beneficiary notice that they're responsible for the costs.
Dr. Quint: Most dry eye treatments are not covered under insurance, but they can be applied to FSA/HSA. Because these services can be expensive, communicating the value is important. All staff is trained on how to effectively communicate the value to patients.
Dr. Rose: They are almost always not covered. If patients are used to aesthetic services, they know that's cash pay. So, then the name of the game is patient retention. It's more challenging to keep the patient — you have to be results driven. The reception has been great, but you have to then deliver.
IS: Do you utilize a separate space in your practice for aesthetics? Can you describe that space?
Dr. Davison: Yes, we have a separate space called Premier Dry Eye Spa & Cosmetic Eye Care. The space is quaint with teal wall colors, aromatherapy, a TV, and Alexa to play soothing spa music. In this space, we do all our treatments, including IPL, thermal pulsation, LLLT, lid micro-exfoliation, autologous serum tears, punctal plugs, and membrane therapy. In the past, I've had an independent contractor aesthetician use the room to provide professional grade spa facials, lashes, waxing, and tinting.
Dr. McGee: I have a whole room devoted to aesthetics, but that's not how you must do it. For years, I did it in an exam lane, and it worked beautifully. So, if you don't have a designated space, that doesn't mean you can't do this. I built a new building about 18 months ago, and in that process, I wanted to make sure that I did devote part of the practice to having that kind of space.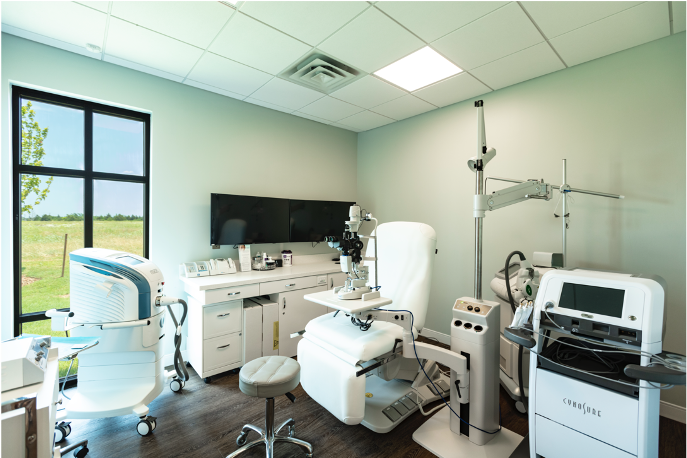 Dr. Quint: Yes, we have a separate space for dry eye and aesthetic services. It consists of a check-in area, waiting room, two treatment rooms, and an exam room. The décor is completely different from our primary eye care clinics and gives a sense of luxury, calm, and wellness.
Dr. Rose: Yes, and that took me by surprise. I bought a practice almost five years ago and launched an in-house dry eye clinic. This practice is only 750 square feet. It grew beyond that pretty quickly. I pulled my dry eye aesthetic services out, and now it's a standalone dry eye med spa.
IS: What can ODs talk to their patients about in the exam chair in relation to beauty/skin care?
Dr. Davison: I encourage my colleagues when I am out lecturing to use the slit lamp examination as a time to discuss harmful beauty trends visible during examination, as well as ask the patient if they have any concerns about their aging eyes and the skin around them. For example, I might notice that a patient put eyeliner on their waterline (inside their eyelid). That's an opportunity for me to ask them if they know that the way they apply makeup could increase their risk of dry eye disease? Or, ECPs could utilize probing surveys during pre-testing to help elicit patient concerns or questions. For example: Are you interested in having your eyes appear more open? Are you interested in a natural way to have longer, thicker eye lashes? Do you remove your makeup?
Dr. McGee: The easiest one is not to be intimidated by what you see behind the microscope. When evaluating lids and lashes, make sure you have the patient look down and pull that eyelid up out of the way so you can take a close look at the base of the eyelashes. You're going to uncover lots there — where they're placing eyeliner and all those kinds of things. Now you need to address them. Talk to every patient about the fact that their eyelids are unprotected because they're not putting sunscreen there, and if they're not wearing high quality sunglasses, they're putting themselves at risk for skin cancer. Those are the two things that are the easiest gateway.
Dr. Quint: Anything that touches the face (makeup/skin care/laundry detergent/etc.) can impact dry eye. It is essential that ODs have this conversation with patients to educate them on how certain ingredients and beauty services can impact ocular health. I have this discussion in person with them and send patients home with a summary of what we talked about.
Dr. Rose: The most important thing is to learn about skin care products and cosmetic products to be able to educate patients what to avoid or what to look for. Start with the eye care products — mascaras, eyeliners, eyeshadows, under eye creams, retinols — start learning about the basics and what to look for and what to avoid.
IS: What are your best tips for ODs interested in offering ocular aesthetic services to their patients?
Dr. Davison: Start small. Begin by offering products or services that get you excited. I bring in one thing at a time, master it, and move on to the next. I actively see primary care patients as well, so it is important not to disrupt my clinic flow and confuse my patients and staff with too many offerings at one time.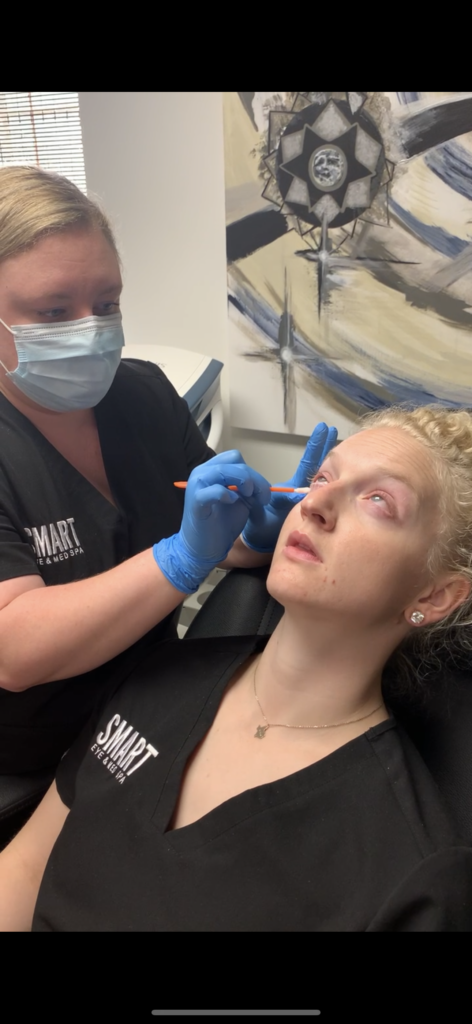 Dr. McGee: Start with one technology. Get comfortable talking to patients about it and then start to add more. You can't be intimidated. It comes down to your mindset and having your patients as educated as well as yourself. Go slow, don't be intimidated, get comfortable with out-of-pocket procedures, and make sure the team around you fully understands and engages in what you're doing.
Dr. Quint: Start building a dry eye patient base first. This requires little to no extra equipment (slit lamp and stain). As this patient base grows, adding in dry eye diagnostic and treatment equipment will come, and that often leads to a natural overlap in ocular aesthetics.
Dr. Rose: I go to optometry conferences and get a lot out of those. But when I started down this pathway, I also started going to aesthetic conferences, not even aesthetic optometry, just aesthetics. Then you become the new student in class again, and it keeps you on your game. Start diving into the world of aesthetics — there's a lot to learn.
IS: Is there a significant investment needed to add ocular aesthetics as a specialty?
Dr. Davison: Yes, however, I recommend doing the due diligence. Evaluate your patient base and patient needs. Then, pick the piece of equipment that best serves your patient base. My patient base is 70-80% African American and Hispanic, so most of my equipment acquisition caters to those specific patient populations. For example, the IPL unit I use is not FDA approved; however, it is safe to use on all Fitzpatrick skin types, including patients with darker skin tones, to treat MGD, dry eye disease, and demodex, and it provides aesthetic benefits with collagen rejuvenation. Remember: start small and grow . . . you must get an ROI!
Dr. McGee: No, there's not. Initially, all you need is a questionnaire, and your slit lamp and the ability to write prescriptions, which we all have. It's going to cost you pennies. Then graduate to a device or something that's going to help you with education and then to a new technology once you learn that one. To start off, you absolutely don't need to spend anything. If you want to have patients utilize skin care lines or certain brands of things that you carry, just start with one so that you don't have a lot of cash outlays sitting on your shelves, and then build on that too. When you get into equipment and you want to start offering IPL, radiofrequency, and those kinds of things, there's going to be a substantial investment. But I will tell you that the return on that investment has been the fastest of anything I've ever had in my practice.
Dr. Rose: A lot of the pieces of equipment are an investment, but if you use them, the consumable and the ROI and the cost of use is not that high. It's more of an upfront investment. Of course, if you want to go on the low end, you could do things such as carrying products in-house and see how they're received with your specific patient demographic. If they seem curious, the risk is a little bit lower, and you already have the patient's interest.
IS: What do you like about providing these services to your patients?
Dr. Davison: It breaks up the day. I am a super girly girl! Getting paid to talk about beauty, anti-aging, skin care, and makeup is fun. I have been practicing for nearly 20 years, so over time, a traditional eye exam can get a little mundane. It keeps my day fun, and my patients appreciate that they have a safe space to share, discuss, and learn.
Dr. McGee: For me, it's value based. I love being able to offer something different to my patients and making sure that they feel as good as they want. A big piece of that is helping with their ocular surface, making sure that everything there is healthy, but also when they look in the mirror, that what's reflected back to them is how they feel. This has been a part of my practice that I never would've honestly dreamed possible. And I wasn't sure how it was going to resonate with patients. Now, it's one of the favorite parts of my practice, and I devote and invest a lot of time into learning more and more so that I can keep these offerings to my patients because it's just a lot of fun. I love having that relationship with my patients where they trust me, and we're doing this journey together.
Dr. Quint: Ocular aesthetics can dramatically impact a patient's quality of life. I've had patients hide from the world because their eyes are red, or they are unhappy about their ocular appearance. Giving patients the education needed to help them improve their confidence and quality of life is very rewarding! I also feel that anything eyelash, eyelid, or eye health-related should come from a qualified medical professional (such as an optometrist). Patients should be getting education and recommendations regarding eyelash extensions, tints, lid skin care, and injectables around the eye area from an eye expert.
Dr. Rose: It's fun to work with happy patients. It's important to be results driven when you're in the aesthetics space. Results are one of our priorities, and we're also getting happy patients, and that has been very pleasant.