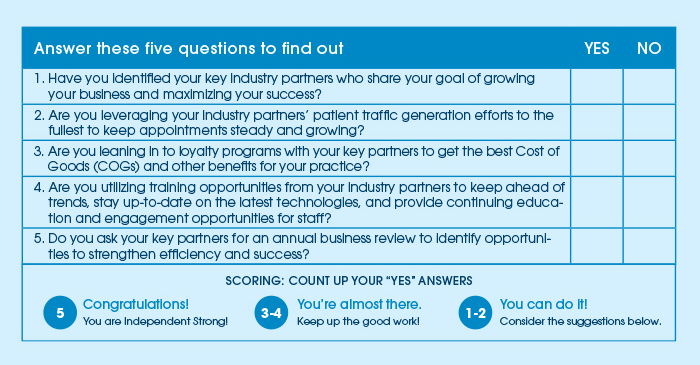 In any business, you are going to have a number of vendor relationships. Goods, lab services, utility providers – these business relationships are a necessary part of operating. But some vendors have more to bring to the table and can elevate themselves from vendor to partner.
In any business, you are going to have a number of vendor relationships. Goods, lab services, utility providers – these business relationships are a necessary part of operating. But some vendors have
These partners go beyond transactional relationships. They have a vested interest in the success of your practice, and they invest in the technology, programs, tools, and resources that don't just keep your practice running, but help you thrive and grow. Who are these partners? How do you identify them, what resources and tools can they bring to your practice, and – most importantly – how do you lean in to those partners to benefit your practice and your patients? Let's start from the top.
Have you identified your key industry partners who share your goal of growing your business and maximizing your success?
You have a lot of options when it comes to picking your industry partners, and we aren't here to tell you which to pick. The decision is deeply personal to your practice and, ultimately, your patients.
So how do you identify which industry organization(s) should be your key partners – the ones helping to drive success and growth? You can start by assessing which industry organizations have the programs, tools and resources you need to help you create efficiencies and opportunities. For example, perhaps you need help capturing new patients. Which industry organizations are investing in campaigns to drive patients to practices, and how can you get involved? Or, perhaps your practice needs help refining their Cost of Goods (COGs) to help improve your bottom line. Which industry organizations are offering loyalty programs that provide preferential terms or reward loyal purchasing to help you lower your COGs?
Not sure where to start? Try asking some of the questions above to your vendor representatives and see what answers you get. You should get a sense of which partners are best equipped to support you from the responses.
Are you leveraging your industry partners' patient traffic generation efforts to the fullest to keep appointments steady and growing?
You're doing everything right. You're listed online, you're advertising locally, you even offer a referral incentive to your existing customers … but you just can't get new patients in the door. Or perhaps it's getting those existing patients to come back more frequently than every two and a half years, or reducing no-shows that you need help with.
Here's an area where you can lean in to industry partners. Some organizations in the industry have patient traffic generating campaigns through national and digital advertising, and their web-based doctor locator tools receive millions of visits each year. Ensuring your practice is listed and benefitting from specific advertising efforts can help you gain new patients.
Some organizations can even help with patient recall. Effective recall messaging can reduce no-shows by up to 30 percent. That opens space for an additional 100 exams a year in an average practice!
What's more, finding a partner who can help with online appointment booking can modernize your practice and ensure you capture new patients who want to interact digitally and book appointments after hours. Did you know that 35 percent of all medical appointments are booked online? And that 35 percent of those are booked after hours? Lean in to a partner who has already built sophisticated appointment booking technology that your practice can plug into neatly.
Are you leaning in to loyalty programs with your key partners to get the best Cost of Goods (COGs) and other benefits for your practice?
Loyalty programs – you have seen them advertised before. Industry organizations want your loyalty. They believe they have the best products and services, and they want you to choose those products and services above others. Therefore, they assemble loyalty programs that incentivize you to purchase from them more than you do their competition. So, after you've identified your key partners – those who are investing in your success and providing the products you and your patients need – it behooves you to look into their loyalty programs to help unlock preferential pricing, sharpen your COGs, and earn lucrative rewards. Next time your vendor rep is in for a visit, ask what partnership programs they offer to reward loyal customers such as you.
Are you utilizing training opportunities from your industry partners to keep ahead of trends, stay up-to-date on the latest technologies, and provide continuing education and engagement opportunities for staff?
In our industry, things are changing every day. New technologies and products are released, patient concerns fluctuate with the news cycle (blue blockers, anyone?), and the consumer journey is evolving. How can you keep up-to-date and ensure your staff is ready to discuss the latest and greatest with patients? Take advantage of learning opportunities provided by your key partners.
Many industry organizations offer a couple avenues for training, ranging from in-office training visits and "lunch'n'learns" to online education platforms that offer continuing education credits for your staff. Bonus: offering these education opportunities to your staff can keep them engaged and satisfied in their professional life.
Our advice: talk with your vendor representative about the training opportunities available to you and your staff and start leaning in to this valuable (and often free!) opportunity.
Do you ask your key partners for an annual business review to identify opportunities to strengthen efficiency and success?
Listen, there is a reason you've identified these organizations as key partners – you believe they are invested in helping you achieve success. They probably also have a far-ranging view of what practices around the country are doing, are monitoring and seeing industry and consumer trends, have learned best practices, and built resources and tools designed to help give you guidance on how to tweak operations so you can maximize efficiency and success in your practice. Lean in to this wealth of knowledge – ask your partners for a business review. What are they seeing other practices do that you could implement or improve upon in your own practice? Are you receiving the best terms they can offer, and if not, how can you? How are other practices closing the deal on the elusive second pair sale? Is your frame board moving the way it should?
All of your vendors want your practice to do well because the better you do, the better they do. But true partners will take an active role in helping you improve your business and will leave you feeling they are willing to go the extra mile to ensure the long-term success of your practice. Find those key partners and lean in.
For more information on how to stay Independent Strong download the Special Report here.