I first attended Vision Expo East in 2002, while working as an optician in the year between graduating college and beginning optometry school. I remember stepping foot into the Javits Center and being overwhelmed and excited by all of the companies, people, technology, and seemingly endless rows of booths showcasing more optical and optometric equipment than I ever knew existed.
Fast forward to 2023, and my excitement remains the same. After a two-year hiatus, returning to VEE in person in 2022 was a sign that all was (almost!) normal, and this year looks to bring even more energy. With my registration all set and my accommodations booked, the next item on my to-do list is to make a plan to maximize my time while I'm there.
I'll start the week by attending the Vision Monday Leadership Summit on Wednesday, March 15th. This year's theme is Insight Unseen: How Leaders Uncover, Design, and Scale Innovations, which is sure to be engaging for all eye care professionals and business leaders. When attending the event last year, what I found most interesting was the diverse group of presenters, which is very different from typical industry events. In addition to optometrists, there were experts from the retail and health industries speaking about trends in the eye care field, which afforded us a unique view that we don't often get and gave us ideas to bring back to even the smallest independent, private practice.
At last year's Summit, we heard from technology executives about how they're including eye care and eyewear, learned how retail drugstore chains are changing their presence in health care, and went home with best practices in brand building, including how best to reach consumers and how social media plays a role in our practices. With senior industry executives, eye care professionals, and key opinion leaders all attending, it is also a great opportunity for networking and engaging discussion. I'm interested to learn about innovation from businesses of all different backgrounds and sizes at this year's event. If you want to look at your practice differently, and take advantage of advice from outside of eye care, this event should be on your list!
On Thursday, March 16th, the day starts bright and early at the not-to-be-missed Optical Women's Association Champagne Breakfast. Set in beautiful, historic Gotham Hall, the event celebrates the 2023 OWA Awardees and serves as the unofficial kick-off to Vision Expo. It's a great opportunity to catch up with friends, meet new connections, and get excited for the days ahead.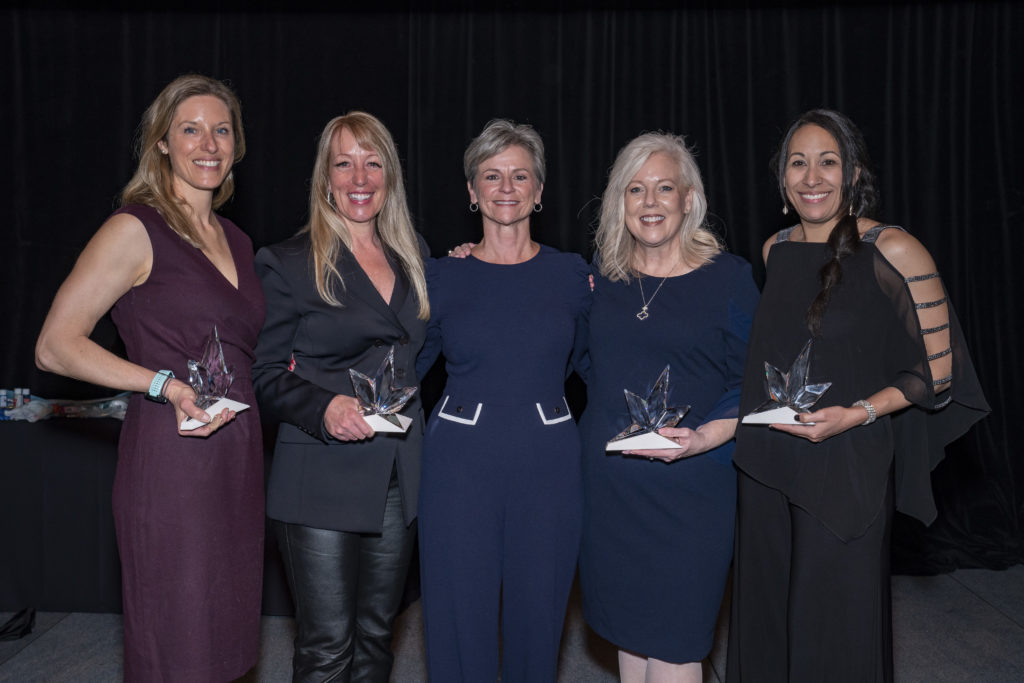 Next, I'll head to the Javits Center to start attending continuing education and learn from the best. It can be overwhelming and hard to narrow down what courses to take from the 13 clinical tracks and over 170 hours of content offered. My best advice: What are you interested in learning about currently? Are you looking to add a niche to your practice? This is a great time to take advantage of a wide array of classes in specialty contact lenses, dry eye, and sports vision. Looking for a refresher in ocular disease? There are a number of anterior and posterior segment courses available from the leading experts. What's on my list? I'm always looking to learn something new at VEE, and this year I'm most interested in business and practice management, including The Transformation of Eyecare From Emerging Trends (Binkowitz), The Power of E-Commerce in Eyecare (Sian), and What Gets Measured Gets Managed (Cmejla).
At VEE, I'll split my days between education and visiting the Exhibit Hall. I come prepared with a list of vendors to visit and learn more about the new technology in ophthalmic lens design, equipment, and contact lenses. What booths will you stop by? If you are interested in adding a new piece of technology to your practice, VEE is one of the only opportunities to demo the equipment in person.
Visiting the different eyewear neighborhoods, including The Park, The Springs, The Union, and The Atelier are some of my favorite ways to spend the afternoon learning about independent eyewear. The colors, materials, and designs that make up the newest in eyewear are fun, engaging, and remind me that eyewear is both functional and a work of art. This is also a great area to people watch. Every year I am inspired to step out of my comfort zone and try a new look after seeing the amazing frames people are wearing. In optometry, we often practice in a bubble, so being exposed to new trends allows us to bring new ideas back to our practices. We can share what we saw, learned, and heard with our staff and patients, and show we are on the cutting edge.
I'll round out my visit by spending time with colleagues and friends at their booths, at meals, and at chance encounters on the floor. The connections and time spent sharing ideas, future plans, and ways to collaborate leave me ready to tackle another year in my career. This is truly one of the biggest benefits to attending VEE for me — the ability to connect with other independent ECPs, share challenges we are facing, learn new strategies for success, and hear what other ODs are doing in their practices (good and bad!). We can each take these ideas back to our practices after the show ends and make improvements to be even more successful.
The sheer amount of people, booths, and educational opportunities at Vision Expo East can make it an intimidating event. Making a game plan of booths to visit, classes and events to attend, and people to meet helps me make sure my visit is efficient, effective, and less overwhelming. I also make sure to take lots of pictures to document my journey!
What is your plan for this year's VEE? Are there exhibitors you are excited to meet, classes you can't wait to attend, or can't miss events to go to? I'd love to hear from you about why you attend VEE, and your game plan for 2023. I hope it involves a chat and picture with me!
Yours in success,
Jennifer L. Stewart, OD