As you may know by now, I'm pro private practice, and I went into optometry school with the singular goal of working in and owning a private practice. I knew this was something I wanted sooner rather than later, and I tried to set myself up as best as I could during school to attain my goals. As the saying goes, "Life is a journey, not a destination." While it took me a few tries to end up where I was meant to be, I learned something from every opportunity along the way.
According to Erich Mattei, the President and Chief Vision Officer of Akrinos, I'm not alone. "Nearly 60% of those contacting Akrinos about cold starts or purchasing a practice have been out of optometry school for five years or less, with 2/3 having graduated in 2019 or later," said Mattei.
What does he see as driving the interest in private practice? "A growing need for routine and medical eye care, expanding scope of care, and an explosion of specialties" are pushing new grads to look into private practice ownership sooner. They are also looking for the benefits a private practice has to offer, even early on, including "fulfillment of professional and personal vision, autonomy, service to others, patients, and the community, financial rewards, and legacy building." While in the past, doctors would wait years or decades to make these changes, Mattei is seeing a renewed interest in young doctors right out of the gate.
One of my favorite roles is interacting with optometry students as part of my involvement at The New England College of Optometry (NECO) as an alumnus and Adjunct Assistant Professor, and I enjoy giving them my "pearls of wisdom" that I hope they file away for another day. Many of them are interested in buying into or owning a practice soon after graduation and are open to advice on how to do so.
Here are my favorite tips for those looking to buy a practice as quickly as possible: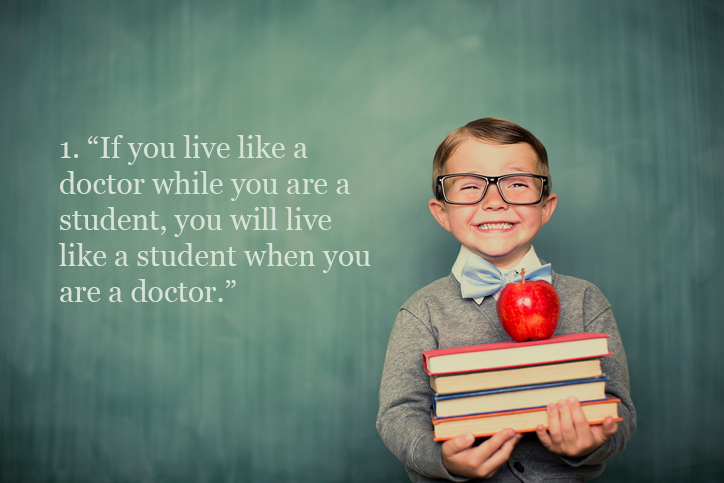 I remember this piece of wisdom on the bottom of one of the financial aid packets we received from NECO, and while I read it almost 20 years ago (!), this still sticks in my memory. I talk to students about managing their debt while they are in school and after they graduate (as much as they can) so this doesn't limit them when they are considering investing in a practice.
While there is little to be done with controlling the cost of tuition, being mindful about spending habits goes a long way. And this is not just for students! Understanding your personal and professional goals and being mindful about your spending habits can set you on the path for success early on. I took out just the loan money needed for tuition and living expenses (and not a penny more!), worked on campus and lived frugally as a student. As a new grad, I drove a used car (and continue to do so) and brown bagged my lunch every day. I took fill-in jobs on my days off and weekends and plowed that money back toward paying off my loans. I increased my loan payment every month and recalculated my payoff date. I focused on paying off my student loans as quickly as possible as I knew I'd be taking on practice debt.
While many of us have long since graduated, and a new graduate's student loan burden is increasingly significant, much of the above may not apply. However, having a clear goal set and a plan in place to reach it is important to anyone interested in buying a practice.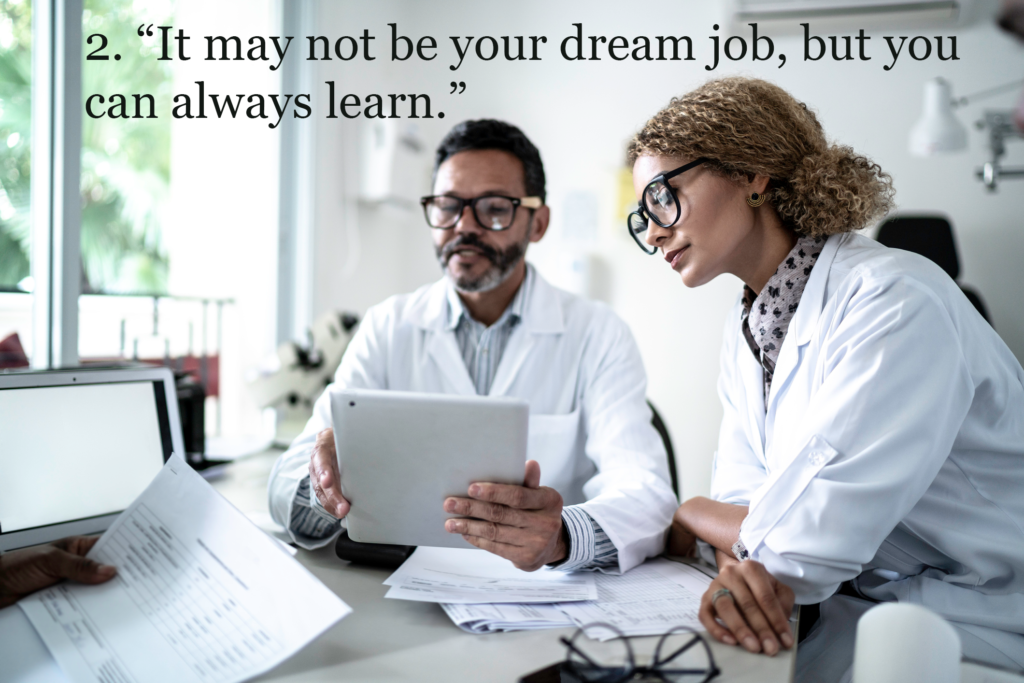 As I mentioned above, I didn't end up in my practice to start. I spent a year working in multiple offices before moving to Connecticut and joining the practice I would be at for 14 years. When I first started there, I also took fill-in jobs as an opportunity to pay back my loans. While working at my additional jobs, I knew they weren't my end goal, but I learned all I could from each one. Each practice was completely different — location, patient demographics, staffing, contact lenses, optical — everything. I found things I loved and things I didn't, and I made lists of them all.
I knew when I was in an ownership and leadership position, I'd have to make choices and decisions, and by having been exposed to so many different practices, I had a leg up in knowing what I wanted my practice to look like in the end. While you currently may not be working in the practice of your dreams, this is a great opportunity to get a feel for what you like and don't like. Is there a discrepancy between staff and doctor communication? Do you find the way patients are scheduled is not as efficient as it could be? Are there frame lines you'd love to see added? A niche or specialty that could provide additional patients and revenue? File these away for your own practice someday — and break open that list when you are in your dream job.
While this is a great exercise for students, it also applies to each one of us. I continue to do this type of planning, and I am always revisiting my goals to add, modify, and eventually cross them off. When I first sat down with my soon-to-be partner and we were talking about me joining his practice, this was one of the first questions he asked me. Thankfully, I had spent quite a bit of time thinking about what I wanted in my career during my first year of practicing, so I had answers for each of the time frames.
Do you know where you'd like to be in 1, 5, or 10 years? Are you making your way toward those goals, personally and professionally? Haven't sat down and thought about it? If not, it's time. I weigh every new opportunity with my goals in mind — does it help me get closer, or is it a distraction that moves me further away? I knew that I wanted to join a private practice with the goal of partnership/ownership within one to three years, and I was able to make that happen. Is your goal a cold start, or are you planning on purchasing a practice? What can you do today to get you closer to that goal over the next 1,5, and 10 years? What can your practice look like with changes made over the next decade?
I'm encouraged by the renewed interest I have seen in starting or buying independent practices — it really shows that private practice continues to prosper and is a wonderful business option. By being diligent with financial decisions, learning from every opportunity, and having clear-cut goals, practice ownership can become a reality for those looking for control and freedom in their personal and professional future.