For many independent practice owners, a change is on the horizon. Someday, some way, they will need to transition away from ownership and daily responsibilities in the practice they worked decades to build. After long independent careers, owners typically share a few desires when it comes time to transition: they want the patients they have treated to continue experiencing the best possible care and they want their legacy of independent ownership to live on. The challenge, of course, is finding that transition option in a market which increasingly feels pressure from private equity and consolidators.
After nearly five decades in private practice, Harvey Hanlen, OD, FAAO, started thinking about selling his practice. Of course, he found himself in the position of wanting to find new independent owners who shared his values and determination to provide the best care. As a Vision Source Administrator in Pennsylvania, Dr. Hanlen knew he could turn to the Vision Source team for resources and support. He leveraged the Vision Source Next program, which is designed to help practitioners start, acquire, sell, or work in a private practice.
After careful vetting and discussion, Dr. Hanlen ultimately sold his practice, Eyes on the Diamond, to Whitney Territo, OD, and John Manard, OD. The group worked together towards common goals: ensuring patients had no disruption to their regular care and visits, and ensuring the practice retained its independence and the community that Dr. Hanlen built over the course of his career.
Remaining Independent, Maintaining Patient Care
"The transition for me has been very smooth since the acquisition," Dr. Hanlen said. "I agreed to work for Drs. Territo and Manard one day a week per diem for a period of time. I worked with them for six months, and things were going so well for them I decided to retire from patient care at that time. The most important role I played was helping to transition the patients to Dr. Territo. That was an easy thing to do, as she is not only an outstanding practitioner, but she also has all of the people skills — which is why the patients really like her. Still living in town and seeing my former patients all the time, it is nice to hear that they're happy with Dr. Territo's services and likeability. That is very satisfying to me, as I've lived and worked here for over 48 years."
"I have always been an independent practitioner for my entire 48-year career," Dr. Hanlen continued. "The acquisition did not change the way I practiced, although I did learn things from Dr. Territo about patient care. One is that you are never too old to keep learning. The change for the patients has been seamless, as her practice philosophy is very similar to mine. She grew up as the daughter of an optometrist, so her feel for private practice has been there for many years."
According to Drs. Territo, Manard, and Hanlen, the actual process of selling and acquiring the practice was straightforward and simple on both ends. Drs. Territo and Manard said they were attracted to Dr. Hanlen's practice for several reasons, including the location, the up-to-date equipment in the office, and the well-established and trained staff.
"There were a few factors that made Dr. Hanlen's practice particularly attractive to us," said Dr. Manard. "The location, as the practice is two miles outside of downtown State College – which is a growing, healthy town, and the turnkey aspect of the practice. There was no remodeling that needed to be done, all the equipment was either new or up to date, and the staff was well established and trained. We could focus immediately on growing the practice and not have to be concerned with implementing anything new."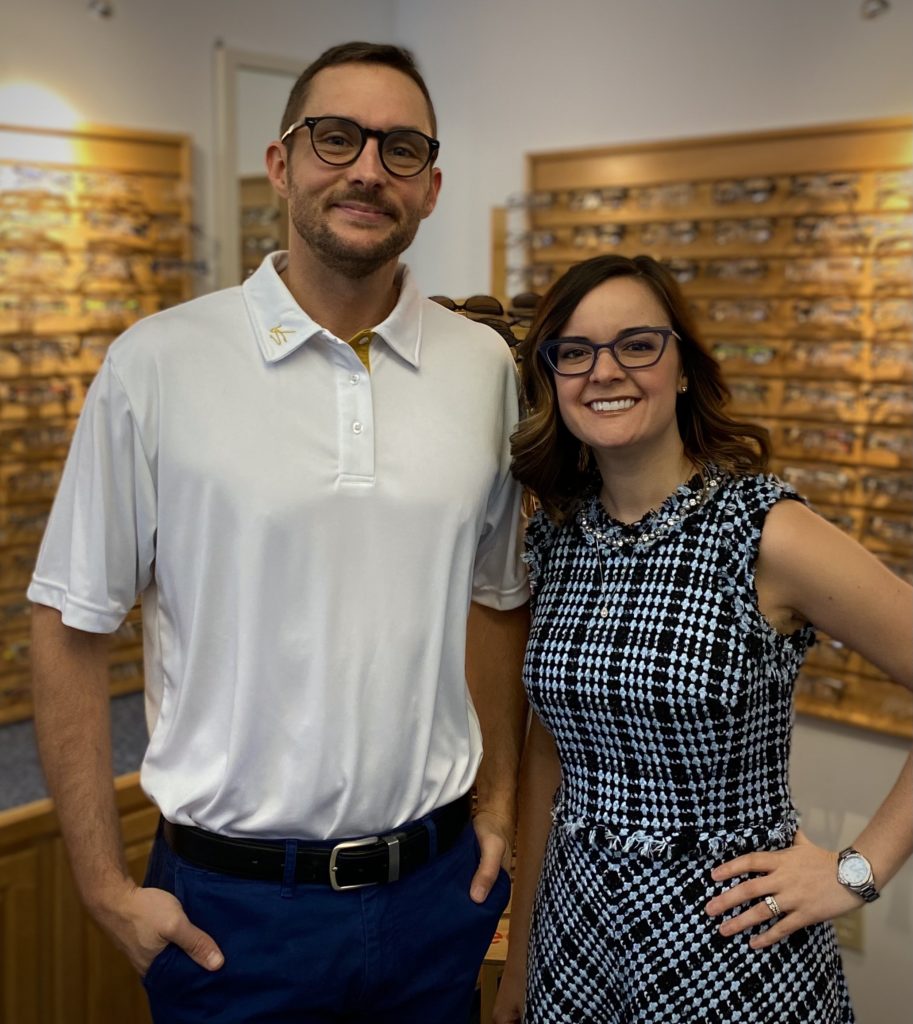 The group worked together to create shared goals, set deadlines for each other so items were completed on schedule, and made sure that patient care was at the forefront of their decision-making. The doctors were most interested in making sure patients didn't feel a transition between ownership throughout the process. They set a completion date of six months start to finish, and their diligence to the process allowed them to successfully reach their goal.
"There is a lot of work that has to be done in the preparation of buying a practice and Vision Source Next did a lot of that for us," said Dr. Manard.
"We were also able to establish solid relationships with the Vision Source Next and Leadership teams," Dr. Territo said. "Additionally, the financial support obtained through being part of Vision Source Next further promotes the success of our business and gave us the financial security we needed, especially during the first year of ownership."
Exploring New Opportunities
The consensus among the doctors is unanimous: Vision Source Next is worth exploring for independent practitioners. The seamless process on both ends has made it an avenue they would recommend to other private practice owners.
"My advice to doctors is as follows: I would definitely look into the Vision Source Next program to buy or sell a practice," Dr. Hanlen said. "In all of my career, I have never been exposed to a more positive group of doctors who share ideas and speak positively about independent private practice optometry."
"I would say the Vision Source Next program is 100% worth exploring — whether you're a seasoned Vision Source practitioner like Dr. Hanlen, Dr. Manard, or myself, or you're new to the group," Dr. Territo said. "I truly believe it provides you with a fast track to ownership and a greater understanding of the business of optometry."
Sponsored Content