When the pandemic hit in 2020, I knew I had to find a unique way to meet our customers' needs. As the practice manager at New Hartford Eye Associates in New Hartford, NY, it was clear to me that our patients would still need glasses and a way to browse and try on frames, but in ways that would keep people safe from COVID. That's where My Frame Gallery by Frames Data came in. 
Frames Data works with numerous eyewear manufacturers to create the most comprehensive and up-to-date database of eyewear around. It includes all the detailed measurements, and even the frame imagery. My Frame Gallery, which Frames Data launched in 2017, uses that huge database to create an online showroom that can be branded and customized for any practice.
When Frames Data's product team helped us implement My Frame Gallery in 2020, they explained that the product is designed with these three ideas in mind. First, it gives patients the opportunity to browse our frames and start the selection process before they even step foot inside the practice. Secondly, it drives patients back to the practice to have a fitting with a licensed optician, so they can experience our excellent in-store service. Third, it delivers some pre-appointment intelligence about the patient to the optician in the form of a "favorites" list of frames, which allows the optician to prep for the appointment and have a selection of frames ready.
Although COVID restrictions have eased, the patients who visit our Upstate New York office still love My Frame Gallery because they can begin to pick out glasses in the comfort of their own home. People like the fact that they can browse our inventory, add several frames to a favorites list, and submit the list to our practice. When they arrive for their appointment, we have the frames waiting for them in a tray. It saves them time during the appointment, gives them an online experience that most people want these days, but still gives them the reassurance that the final selection will be made with the help and expertise of our licensed opticians.
Patients are usually happy with their favorites list selections, and I've noticed they rarely choose frames that aren't on their list. If we don't have a frame on hand that was chosen in a favorites list, we simply substitute a similar frame or suggest others from our inventory, and that has worked well for us. Patients trust the opinions of our licensed opticians, and they are generally happy when they see we've made the effort to find alternatives.
The Virtual Try-on Feature Saves Everyone Time
An important feature of the gallery is the built-in virtual try-on provided by Fitting Box. This virtual try-on gives the patient an idea of how the frames they select might look on their face. It's a bit like how those app filters on your phone work in that it uses a webcam or mobile device camera to virtually place frame images over a live picture of the patient's face. The virtual try-on doesn't tell them if the frame will fit them correctly, if it's comfortable, light or heavy, but that doesn't really matter because the patient still comes to the office to finalize the selection. That's good because we want them to get the full benefit of our in-store service in addition to the online experience, which creates loyalty in our customer base. Getting started is as simple as going to our website and clicking the "Browse Frames" button.
My Frame Gallery has also proven to be a tremendous timesaver for our staff as well as our patients. In fact, customers in our main demographic of women between 30 and 65, who often are busy moms and grandmothers with limited time, seem to especially like using the gallery because it saves them time.
But maybe more important, I estimate that in the practice we save at least 10 minutes per patient if they use the gallery before their appointment. And as everyone in our industry knows, most practices are very busy and tightly scheduled, so saving time is very important. Those 10 minutes quickly add up to precious hours of saved time every week.
A Simple Way Keep Your Frames Up to Date
Frames Data's Auto Brand Update makes it easy to add frames into the gallery. When the main database updates, new frames in the brands we carry are automatically added, and discontinued frames are removed. Since our optical department doesn't want to limit our patients' options, we offer all styles in the brands that we carry. We chose this option even though we could also send an inventory file if we wanted the gallery to match our physical inventory exactly. Our site displays just over 30 brands (there are well over 600 brands total in Frames Data), but if a patient selects something that's not in our store, we pick something similar in the same frame line, and most people are okay with that.
Another great feature of My Frame Gallery is that so much of it can be customized. You can customize it with your own welcome message, or just use the prewritten text Frames Data provides. You can also create a splash page using their library of images to personalize your gallery, and you can change the splash page as often as you like. Frames Data provides new images to choose from every season, so it's easy to keep our gallery fresh.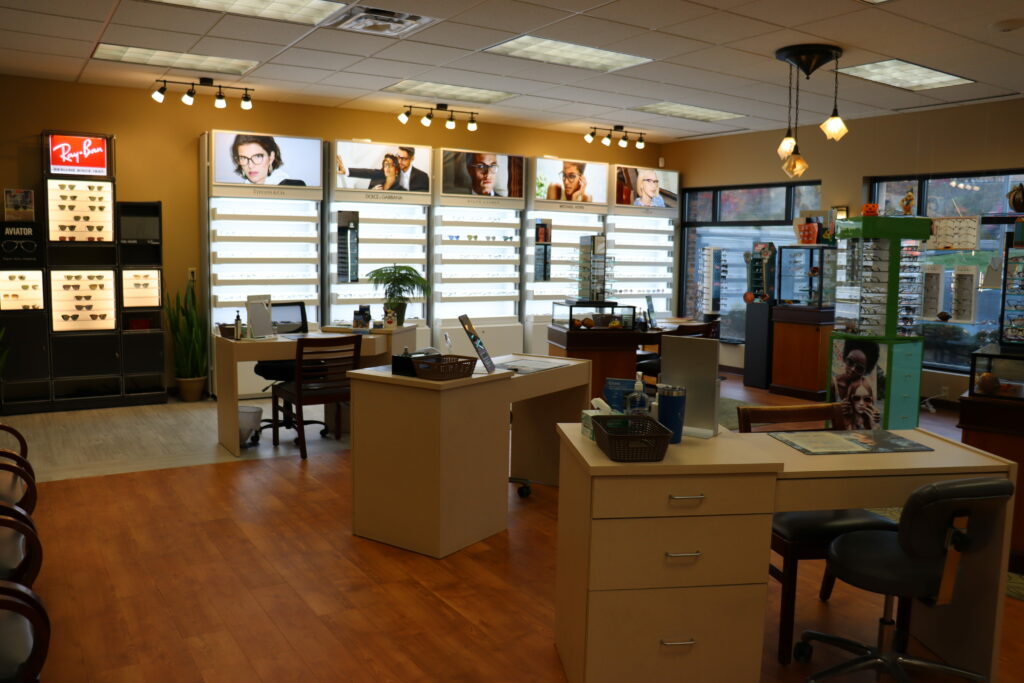 Email is Our Most Successful Marketing Tool
According to the product team at Frames Data, our gallery is consistently a top performer, even though we are a single location practice. I attribute that to the fact that we are very active with our marketing programs. We've used a variety of marketing techniques to drive people to our site, but I think simply emailing a link to the gallery along with routine paperwork before every appointment has proven to be our most successful method for getting the word out.
Another way we promote the gallery is with what Frames Data calls Direct Links. This is a list of links that we can use in our marketing, and it really adds another dimension to all of our digital marketing. For instance, if we're having a sale on a certain brand, we can use a Direct Link embedded in an email or ad to show people only frames in that specific brand on the gallery. Similarly, if we are having a promotion for sunwear, we can send people a link to only sunwear. And in the fall, there's a link to kids frames that can be used in back-to-school promos.
Direct Links also come in handy when we're promoting trunk shows. When someone lands on our site, they see the promotion we're running, and if they click on the pop-up, they go directly to a page with only the frames in that brand. That way they can start browsing the promoted frames right then and there.
I embed links to the site in social media ads, email blasts, and appointment reminders. We use SolutionReach for reminders. I've even used promotional cards with QR codes.
In addition to advertising via email, social media, and print ads, I've had a lot of success promoting My Frame Gallery on the radio, too. I have contracts with three radio stations, and I make sure to talk about how great our gallery is when I'm on the air.
Since the site was launched three years ago, it has impacted sales in a couple of ways. One is people still love shopping online, and they still love being able to try glasses on without the pressure of being in the practice. And two, by adding the gallery, it shows that the practice is tech-savvy. We tout our customer service, in-depth eye exams, and advanced diagnostic equipment, and being able to have My Frame Gallery adds to that.