When I attended optometry school 38 years ago, I studied to be a doctor – not a business manager. In fact, I distinctly remember being taught "medicine doesn't market"… all that we practitioners need to do is hang our sign, open our doors, and the patients would come.
I've not found it to work out quite that easily in practice, have you? Instead, I find that patients expect a 21st century experience – the campaigns from familiar brands, the augmented reality filters and experiences, and they want to learn about what we have to offer while browsing online before ever stepping foot in the office. In short, they expect the digital experiences that have become commonplace in their lives to be present in their eye care journey.
So, knowing that many independent practitioners are not equipped to create state-of-the-art digital experiences and update them each time new technology is introduced, where do we start… how do we position our practice to engage with patients in a way that exceeds their expectations?
Perhaps you can start where I found success – by finding a partner who has the tools and resources needed to draw in patients and enhance the profitability of my practice. For me, that support came from EssilorLuxottica 360, a partnership program that has enhanced many aspects of our practice in new ways.
The Endless Frame Board
For example, what if I told you there is a sophisticated, easy-to-use tool that would expand your frame board into an endless aisle with the latest collections, colors, styles, and lens customizations, giving patients a true-to-life virtual try-on experience, complete with shareable selfies?
It's called Smart Shopper. With this simple application downloaded onto my practice iPads, my staff are equipped to offer patients the augmented reality, touch-screen, customizable virtual mirror experience that provides a big wow factor and enhances the patient's optical experience.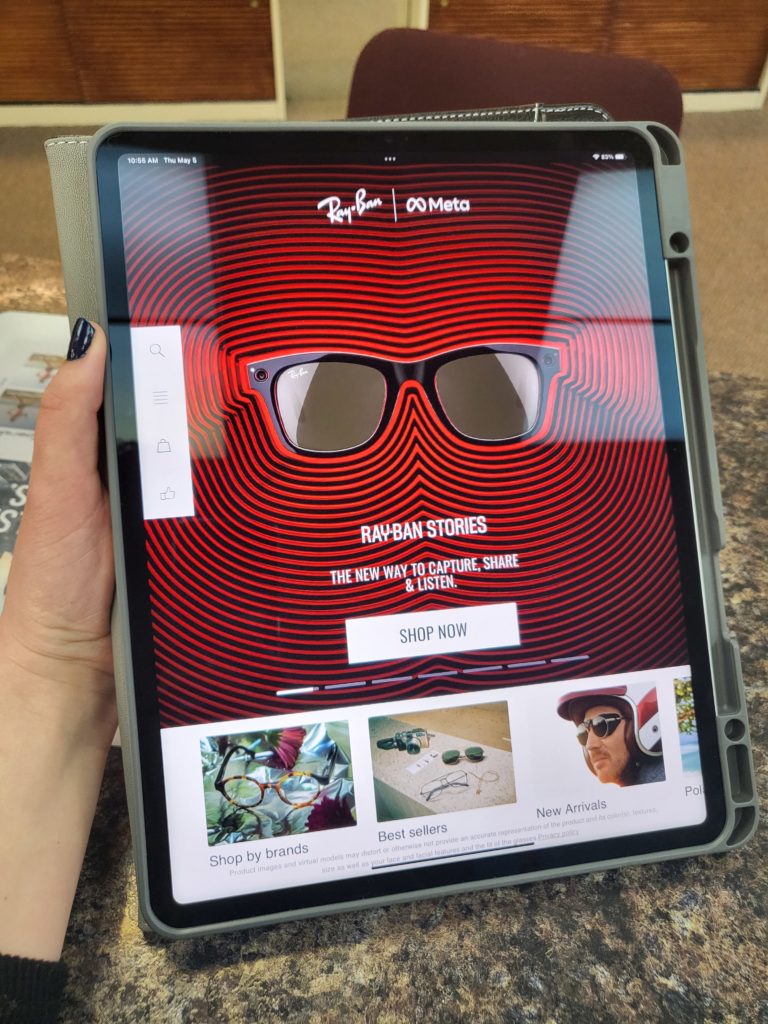 Not only does the tool expand my frame board and help me reduce costly physical inventory, it enables the optical staff to cover more patients, spending time at the physical frame board while other patients happily customize their Ray-Bans with Smart Shopper.
In fact, last week I saw a family of patients clamoring over who got to use the iPad first in our dispensary. (Note to self: Order more iPads!)
Digital Screens and Tools Create the Modern Experience
Then there are the digital screens present in our optical and waiting area that highlight the latest collections and technologies that patients can find in my office – and in Smart Shopper.
And while these digital tools have helped us create the modern experience we know our patients appreciate, we aren't stopping there. There are more tools for us to bring to the practice as part of our EssilorLuxottica 360 membership – tools we know will help us attract and engage patients where they are, including online appointment booking technology and ready-to-post social media campaigns from well-known brands.
In over 30 years of practice, I have never been more excited about the future of our profession and our ability to deliver excellent patient care and experiences. Between advances in vision technology and new and exciting digital tools we can use to better connect with patients in our communities, our ability to serve patients by protecting their most precious sense continues to evolve. I believe as technology advances, more and more of our patient interactions will become immersive digitally…stay tuned.
Sponsored Content