One of the most important tasks in a practice is to assemble the right team members in the right jobs. The person who holds the job of the practice bookkeeper must be a person who is detail oriented. The person who holds the position of optician, in addition to also being a detailed person, must also be a people-oriented person.
What happens when we don't get the right people in the right jobs? Bad things happen. The number one reason why patients leave a practice is because they've had a negative interaction with a team member. Patients will even say when they leave the practice, "I love the doctor, but I'm not coming back because of your receptionist."
So how do we get the right people in the right jobs? Start by defining the work. Create a flowchart describing how a patient moves through your practice. A good way to do this is to identify every place a patient stops on their journey through your practice. At that stopping place, something happens that usually requires a team member. That flowchart could look like this.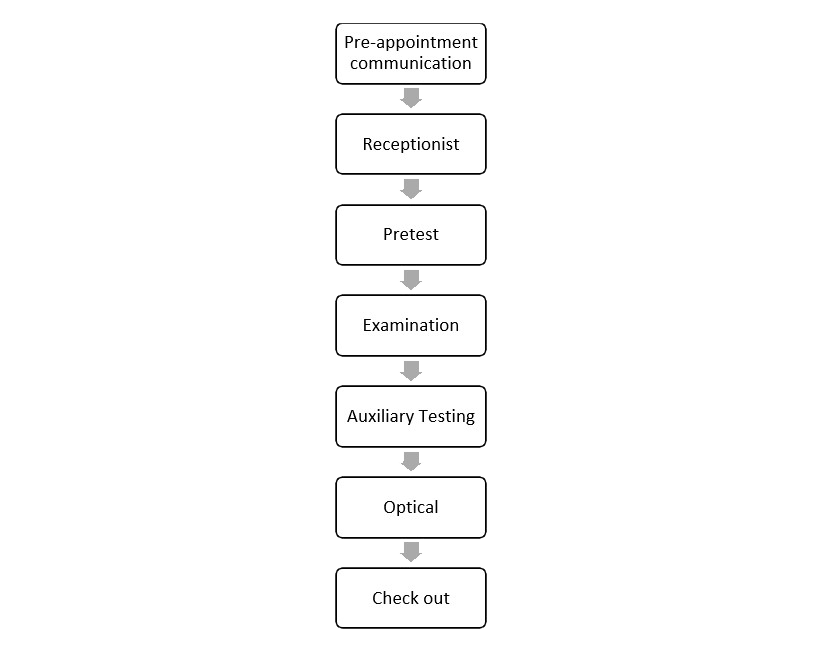 Don't forget to identify the other jobs that need to occur simultaneously in order for the practice to function smoothly. Jobs such as these: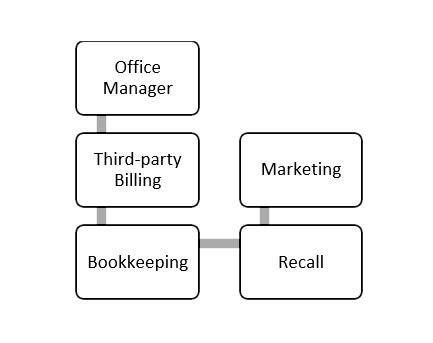 Now define what you want from the Team member at each step. It may look like this.
Pre-Appointment Communication
confirmation of appointment date and time
patient demographic information
identification of the reason for the visit (medical exam versus nonmedical exam)
clarification for how the examination will be paid
third-party precertification when indicated
Receptionist
make the patient feel comfortable
confirm third-party precertification is accessible in the patient record
completion of patient history information
manage communications going into and out of the practice
successful transfer to the pre-tester
Pre-Tester
accurate pre-test report results recorded properly
discuss with patient and record in the patient notes additional care that may be needed today
manage testing to keep the doctor on time
Examination
identification of all solutions that will improve the patient's quality of life
agreement from patients to follow the doctor's treatment plan
prescribe the recall for the patient
successful transfer to auxiliary testing or to the optician
Auxiliary testing
accurate auxiliary testing results recorded properly
assist in helping each patient follow the doctor's treatment plan
Optical
assist in helping each patient follow the doctor's treatment plan
manage the frame board
contact lens education
handle any objections to the fee presentation
Check out
collect all fees due today
restate the recall information to the patient
Third-party billing
accurately submit third-party billing
Bookkeeping
accounts receivable less than 10 percent of gross revenue collected
nothing in accounts receivable over 60 day sold
all bills paid promptly
accurate paper record of all financial dealings
Recall
patients seen, goal is achieved
Marketing
new patient goal is met
patients purchasing additional services and products, goal is met
Office Manager
the practice is fiscally healthy
all team members are achieving their goals
every job in the practice written up
Now that we know what work must be done in the practice, the next two activities are to determine how many team members are needed and what to pay them. Both of these activities are interrelated.
How Much Money is Available for Hiring?
Start with how much money is available to hire the practice team. Practice benchmarks for non-doctor team members is 20-22 percent of gross revenue collected. For a practice with a gross revenue collected of $1 million, that means the practice has between $200,000 and $220,000 to hire non-doctor team members.
There are several websites that give insight into how much you should pay your team. Examples of these would be salary.com, Indeed.com, glassdoor.com, and ziprecruiter.com. The Bureau of Labor Statistics maintains a government-run website that lists salaries for typical jobs but tends to run one to two years behind. Most of these websites give ranges of salaries for particular jobs, which is helpful information.
Use an Excel spreadsheet to document what each team member is being paid and your total payroll.
| | | | | | |
| --- | --- | --- | --- | --- | --- |
| Team Member Name | Position | Wage | Bonus | Benefit | Total |
| | Practice Director | | | | |
| | Office Manager | | | | |
| | Receptionist | | | | |
| | Pre-tester | | | | |
| | Chair-side Assistant | | | | |
| | Auxiliary Tester | | | | |
| | Optician | | | | |
| | Check Out | | | | |
| | Third-party Billing | | | | |
| | Bookkeeper | | | | |
| | Marketing | | | | |
| Total Payroll | | | | | |